The Echo Of Enduring Courage 
Leonard Abbott Merrill, Jr., or "Spike," as he would later be called by his friends and family, was born on September 22, 1917 in Ward 6 of Haverhill, Massachusetts.
He was the only child of his father, Leonard Sr., a farm manager who had graduated from the University of New Hampshire with an agricultural degree, and his mother, Gertrude, a housewife who did part-time work as a nanny to help support the family. After a brief relocation in 1923 to Miami, FL, where Spike's mother helped with the children of a family making the move down south, the Merrill's returned north and settled in Peterborough, New Hampshire where his father started a long career as a manager at Orchard Hill Farm.
Spike attended the local grammar and middle schools and he started working after school at Orchard Hill. The farm had registered Jersey cows, three bulls, a couple of draft horses and assorted dogs and cats.  The farm was owned by ex-Governor Robert Perkins Bass and Spike's father would go on to manage the farm for another four decades (and it is still owned by the Bass Family). Spike helped with milking, haying, and other chores.
He registered for YMCA Camp Takodah in 1929 on the advice of a neighborhood friend who was also attending the two-week Boys Session that July. Spike was among the first to use the new, expanded crib, dock, and diving tower which became a staple of the Waterfront. He benefited from newly screened-in cabins and electric lights that had been installed in the bathhouses, or "Twins" as they are still called today. He also contributed $1 towards a new chair to be used when sitting on the porch of the office building (a chair which is likely still in use at camp.) Best of all, a 24' section of Hobby Nook was moved over to the kitchen where it was used as a new icehouse. That meant there would be plenty of ice cream to purchase throughout the summer.
Camp was 13 years old. Spike, however, was only 12.
That summer, he got to know another boy, named Robert Henry Slade, who had been coming to Takodah since 1926. Robert knew all the camp songs, traditions, programs, procedures, and activities. He was the perfect guide for a newcomer like Spike. Robert would go on to serve as a Staff Sergeant in the U.S. Army during World War II. Both boys would eventually fight the Axis powers in the Mediterranean.
One would die in a storm-tossed sea, the other would die on rocky Italian soil.
In 1930, Spike came back to Camp for another session. By that time, Takodah had grown to 10 cabins, able to hold over 90 campers, with donations regularly coming in to help build additional buildings. A new grindstone was presented to "Uncle" Oscar Elwell by Sam White, a long-time camper who was also from Peterborough. The stone would later prove to be useful to sharpen axes and other tools following the destructive hurricane of 1938 and then continue its life as a counterweight on a pottery wheel.
Instead of purchasing fireworks that summer, a new 10' long slide-chute was installed on the dock as the staff wanted something new for the campers to play with down at the Waterfront. A new clearing for the tennis courts was also worked on by the campers and staff each day. While they have been resurfaced several times over the years, the courts are still in regular use.
That camping season would prove to be a record breaker for Takodah with 288 people living on the rapidly expanding property. The campers themselves came from 17 different communities around the region.
Spike continued in the Peterborough Public School system where he repeatedly demonstrated academic excellence. But he also learned the value of hard work by working at the farm well into his high school years. At 16, he was driving tractors and, rising early, would deliver milk to customers before school. He learned bookkeeping, a skill that came in handy as he began selling milk & graham crackers at recess – which became a profitable business venture. He also raised white mice and sold them as pets and to laboratories. His energy and comfortable way with people not only provided him with spending money but helped build character and confidence.
In short, he was a young man that once you met, you never forgot him.
On June 19, 1934, Spike graduated a year early from Peterborough High. Although he gained early acceptance to Massachusetts Institute of Technology (MIT), his mother's strong opinion was, as usual, quick to be expressed.  "No way you are old enough to go to MIT," she said. So that was that. Gertrude insisted that Spike do a prep year at Cushing Academy in Ashburnham, MA, where he focused on science classes. He also participated in Dramatics, Glee Club, Debating, and played his saxophone in the Cushing Orchestra. It was during this year that he earned the nickname that would remain his moniker for the remainder of his life. After graduating with honors from Cushing that following June, Spike finally attended MIT in Cambridge, MA.
While at MIT, Spike took business and engineering administration courses and was a member of the Chemical Engineering Society and the Technology Christian Association. While he was serious about academics, he was also known for being a man that loved to have a good time. In fact, he and several friends formed a band and, once again, Spike was belting out hits on his saxophone much to the delight of his fellow students. He was a sportsman too, serving in the Nautical Association and on heavy crew (8-man shells), which he rowed all four years.
More significantly, Spike joined the Reserve Officer Training Corps (ROTC) program, which he successfully completed in May 1939, receiving his commission as a reserve 2nd Lieutenant in the Army on the 24th. He graduated from MIT with a Bachelor of Science in Chemical Engineering on June 6th, 1939.
A month before graduation, and desperate for someone to type up his final papers for school, Spike struck up a conversation with Dorothy Elizabeth Bingham Barr, a secretary at the John Hancock Insurance Company in Boston. They continued dating that summer, even after Spike got a job in Buffalo, NY, as resident engineer, fire inspector and salesmen for United Mutual Fire Insurance.
At the same time, Spike also began reserve duty based out of Fort Devens, MA. There he served with the Army Chemical Warfare Service (CWS), learning how to use smoke and incendiary artillery shells. A year later he registered with the Selective Service on October 16, 1940 at the Local Board #12 in the Town Hall in Milford, New Hampshire, as a "2nd Lt. 305 Chemical Warfare Reserve."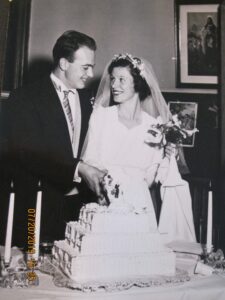 That month was memorable for another reason too, as Spike and Dorothy got married on October 12, 1940. She moved out to Buffalo with Spike and enjoyed building a life together. On visits back to Massachusetts they often visited Orchard Hill farm too, where Spike would periodically work with his Father. He found that small town life kept him grounded and focused on his family.
But the war was rapidly intensifying around the world, with the British fighting in North Africa and on the Atlantic while the Sino-Japanese war raged in Asia. Spike knew the U.S. was being slowly drawn into the war, as Congress was currently arguing whether to sell munitions to Britain and Canada, a step that would almost certainly end U.S. neutrality. Realizing he would probably be called to duty; he and Dorothy chose to start a family sooner rather than later. And within a year both happened: Dorothy was six months pregnant when the news of Pearl Harbor shocked everyone, and their world changed in an instant.
With that news, they decided Spike needed to go active duty, if only to choose the time and place of his service. The decision, made by the two of them together, led Spike to swear the oath on February 4, 1942, receiving his active duty commission in the United States Army:
I, Leonard Abbott Merrill, do solemnly swear that I will support and defend the Constitution of the United States against all enemies, foreign and domestic; that I will bear true faith and allegiance to the same; that I take this obligation freely, without any mental reservation or purpose of evasion; and that I will well and faithfully discharge the duties of the office on which I am about to enter. So help me God.
Soon after, while undergoing officer training at Fort Devens, Spike and Dorothy welcomed their first child, Robert, born at Spike's family home in Peterborough on March 1, 1942. While Spike was elated to be a father, he had very little time to get used to the new responsibility. Within days he was transferred to the Chemical Warfare School (CWS) at Edgewood Arsenal, MD.
After receiving his certificate of proficiency from Edgewood Arsenal at the end of 28 March, he was then transferred to Fort Bliss in El Paso for additional officer training. As both an officer and a married man, he was granted housing benefits for his family. Dorothy and Robbie arrived in El Paso by train on 2 May.
Six weeks later, Spike was attached to the 83d Chemical Mortar Battalion, a recently established unit based out of Camp Gordon, Georgia. He and his family arrived in Augusta, GA, on 19 June 1942, nine days after battalion activation.
Spike was in from the start.
Equipped with thirty-six 4.2-inch (107mm) diameter, 48-inch long rifled mortars, Chemical Mortar Battalion's were distinct from a regular mortar battalions in that troops were trained to fire incendiary, tear gas and smoke (white phosphorous) in addition to normal, 25-pound high-explosive shells. Given its' heavy firepower at mid-to-short range, and the ability to lay down concealment smoke screens, chemical battalions were not permanently attached to specific units. Instead, higher level commands used them as an operational reserve, assigning them to combat units for specific missions. The men later referred to the unit as the "Bastard Battalion," given that companies and even platoons were often shifted between different combat units' multiple times a day.
Over the course of that summer and fall, the battalion conducted forced marches, land navigation, setting up communication posts and night bivouacs, target practice and learned how to use machine guns, anti-tank weapons and their own specialized mortars.
Owing to his age, work experience, and his good scores at CWS, Spike was designated as the Battalion Intelligence & Meteorological Officer (S2) on 10 November 1942, an important position on the headquarters staff. In that role, he would brief operations staff on enemy dispositions, lessons learned, tactical situation reports and expected weather during upcoming movement or combat operations. Preparing the battalion for combat was very hard work, especially as new, inexperienced recruits continued to arrive over the winter.
Indeed, Spike came down with a case of pneumonia in January 1943 and spent some time recuperating both in the hospital and at home.
At this point Dorothy was well into her second pregnancy and, given his enforced idleness, his thoughts doubtless turned to his upcoming deployment overseas. Spike would have been contemplating the real possibility of leaving his family to serve his country, as countless others had done (and still do).  He would also have access to classified reports on the course of the war, particularly the bloody fighting in North Africa, and pondered the risks of serving in what had become a tough, hard fought struggle. But Spike and Dorothy carried on as always, making sacrifices together despite the mounting costs.
On 1 March 1943, the battalion was assigned to II Army and began preparing for "overseas movement." This involved packing organizational equipment, requisitioning material to fill out inventory stocks and discharging men unfit for overseas duty. Last minute field training was accelerated. Dorothy and Robbie also returned to New England, settling in Brookline, Massachusetts with Dorothy's parents.
On 18 April, the battalion was finally notified of actual movement and departed by rail the next day, arriving at Camp Myles Standish, Taunton, Massachusetts, on 20 April. Last minute physical exams, inoculations, and equipment issue would have followed along with a rising sense of anxiety. The reality of imminent deployment would have weighted heavy on the hearts and minds of the men.
Spike was most certainly no exception.
Originally intended to depart from Boston, a nor'easter led to the battalion moving south by rail to New York instead, with different companies embarking in Army troop transport Monticello between 26 and 28 April 1943. The troopship departed with Convoy UGF-8, a group of 23 ships (including 18 other troopships) as well as ten Navy escorts. The passage was uneventful, save for many of the men who suffered from seasickness, and the convoy arrived in Oran, North Africa, on 12 May. Spike, who was as fit as a fiddle throughout the crossing, summed it up as a "pleasure cruise all the way with beautiful weather and calm seas," though many of the enlisted men stuck below decks had a miserable voyage.
Upon arrival, one officer noted that "you could smell Oran ten miles at sea. Native plants plus numerous if not thousands of years of history contributed to this aroma."
Although the troops did not know it yet, the battalion had been tapped to participate in Operation Husky, the Allied plan to liberate Sicily. Following the success of Allied landings in French North Africa in November 1942, and the drive into Tunisia the following spring, Allied planners envisioned seizing Sicily that summer. The campaign would at the very least neutralize Axis air and naval forces on the island which would open the entire Mediterranean to Allied shipping. This would greatly increase efficiency as merchant ships would no longer have to sail around Africa to get to Egypt, India or the Far East. At best it might knock Italy out of the war.
After disembarking at Oran, the men were then trucked northeast to Assi-ben-Okba, a rocky, cactus-filled location immediately dubbed "Goat Hill." The hot sun, cold nights, local figs, poor water, and bad red wine gave many of the men dysentery and jaundice. To make matters worse, the temporary camp was plagued by swarms of flies and mosquitoes, which led to some cases of malaria.
In short, it was a miserable place to be, though he couldn't really say that in his first letter home (as the censors wouldn't allow it). Instead he talked about the incessant heat. There were other personal realities that would have, once again, been brought to the surface for Spike.
On or shortly after 29 May 1943, he would have been notified by telegram that Dorothy had given birth to their second son – and arguably a real chip off the old block – named Richard. The mixed emotions of joy and heartache would have been overwhelming as Spike found himself so far from home while such a joy was unfolding within his family. He had no choice but to subdue his feelings and ensure he always maintained the appearance of confidence, stability, and strength for the men that served with him.
Strength of character and clear-minded courage was something Spike had seemingly endless reserves of. For any individual who must carry on in war when a family needs them at home faces an internal struggle that few of us will ever truly understand.
The battalion rallied and conducted more training, including amphibious operations practice in late June. Spike would have been fully engaged with the operations officer in understanding enemy dispositions and developing up to date specialized procedures for providing close fire support. The rifled barrels of their mortars allowed accurate fire, but still required very close coordination with spotters via radio.
While the mortar companies sailed for Tunis on 27 June, the headquarters company remained in Algiers. Spike, who also served as the battalion PX or "post exchange" officer, traveled about 100 miles to get candy and cigarettes in stock for the invasion. Once they landed in Sicily, those luxuries might be hard to find and, after spending a week in the field, even a simple chocolate bar did wonders for morale. According to a letter, the drive was "uneventful other than spotting several camels."
With the battalion's weapon companies assigned to the 1st and 4th Ranger Battalions and the 16th Infantry Regiment, the 83rd put to sea from Tunis starting on 5 July. The waters were rough, many of the infantry landing craft taking on considerable water and most of the men were seasick. Still the invasion of Sicily went forward. The battalion landed at Gela the morning of the 10th, struggling to get their heavy mortars through the surf. Sharp fighting followed, as the landing beaches were consolidated, and observers took up positions in church steeples.
Later that morning, the battalion's mortars, along with gun fire from two other Engineer battalions and light cruiser Savannah (CL-42), helped drive back two Italian counterattacks. Bitter fighting followed as the Rangers pushed on Butera, a medieval fortress in the mountains that covered a major inland highway crossing central Sicily, and the town was taken on the 14th.
With their initial invasion goals over, the 83rd shifted to the 82nd Airborne Division's control and participated in the "Palermo Dash," an epic run along the southwestern coast before darting inland to liberate Sicily's capital. The battalion's companies advanced separately through Agrigento (from where Spike sent his next letter home) to Sciacca and beyond, with the men hauling mortars by hand and marching 20 miles a day in the hot summer heat. Elements of B company helped liberate Trapini while a mechanized force seized Palermo on 24 July.
The next day a coup in Rome ousted Mussolini from power, leaving Italian forces in even more disarray.
Meanwhile, despite the collapse of Italian resistance in western Sicily, German troops staged a fighting retreat in eastern Sicily, holding off British troops south of Messina and the Americans at Santo Stefano on the northern coastal highway. As B and C companies helped in the American push east on 30 July, the rest of the 83rd consolidated and refitted at Castelvetrano in preparation for landings on the Italian mainland. While there, the battalion patrolled the area to preserve order, identify mine fields and collect abandoned vehicles, weapons and munitions. Spike would also have been involved in lessons-learned analysis now that the unit had their first combat actions under their belt.
After Messina was captured in mid-August, Allied planners decided a quick invasion of the Italian mainland might convince Italy to surrender and divert German troops away from defending France. Both of which happened earlier than expected. On 3 September, the Italian government suddenly agreed to an armistice and on 9 September, the day the armistice was publicly announced, the Germans swiftly occupied all of Italy using troops sent from Bavaria and France.
Caught flat-footed by the rapid German response, the Allies launched Operations Avalanche and Slapstick, which were quick, almost ad hoc landings at Salerno south of Naples and at Taranto near Brindisi, also on 9 September. The plan was to link up the two invasions, cut off any enemy forces further south and encourage Italian resistance to the Germans.
Unfortunately for the Allies, little of this worked.
The initial landings were successful, especially at Taranto which faced almost no resistance. At Salerno, C and D companies of the 83rd landing at Maiori and Vietri-sul-Mare. Attached to a mix of Ranger and British Commando battalions, the force was tasked with holding open the mountain pass at Chiuzi, which led the way to Naples. Rapid German reinforcements checked the advance, however, and the battalions were forced on the defensive in the face of repeated, dangerous German attacks. A major armored counterattack to the south, for example, almost pushed a portion of the defenders into the sea, ending just shy of the beach near Pietro. The delay allowed the remaining German units to the south to escape Allied encirclement.
Within the month, however, the Allies had linked up, liberating all of Italy south of the Volturno-Biterno river line, including Naples. But by then heavy October rains turned the lowlands into mud, which stalemated the front. The 83rd was then assembled at Amalfi to refit and incorporate replacements after a month of heavy combat. There, Spike was heavily involved in disseminating the hard-earned lessons of the fighting so far.
Starting 9 November, and lasting through December, the battalion supported Ranger task force operations in the San Pietro Valley. This was extremely difficult in the bitter cold, wet and muddy mountains, with the men suffering from frostbite, dysentery and trench foot. Indeed, Spike came down with jaundice – which he called "not serious, just annoying" — and was shipped to Sicily to recover.
During that time, he and Dorothy would have had a chance to exchange letters and Spike would have learned about his two growing boys and how Dorothy was adjusting to her role as mother of two. They talked about their love for each other, his love for Bob and Dick, and how they hoped Spike would eventually come home safe and sound to be the small-town father he truly wanted to be.
It was one of the last times they would ever communicate.
Spike flew in a cargo plane from Sicily to Italy on 18 December, rejoining the battalion near Naples on the 21st. There he worked with other senior staff preparing for the next operation.  Stalled by the German "winter line" defenses on the Volturno, Allied planners decided to launch Operation Shingle, intending to land two divisions at Anzio north of the Gustav Line, outflank German defenses and open the road to Rome. The 8th Amphibious force gathered ships at Naples in early January and staged practice landings in Salerno Bay. Spike was kept busy studying expected German defenses and briefing the mortar teams on enemy tactics and procedures. Elements of two divisions plus the 6615th Ranger force, with the 83rd attached, embarked on 21 January. A and B companies embarked in LCI(L)s 229 and 231 and were scheduled to land in the first wave with the Ranger battalions.
The initial landings early 22 January 1944 went smoothly, with Ranger Force and the mortarmen quickly taking the ports of Anzio and Nettuno before sending patrols inland to widen the perimeter. Over the next several days, American and British forces expanded their foothold but met unexpected resistance in the Alban hills above the beachhead. A and B companies were then heavily engaged supporting attacks on the right flank, just north of the Pontine marshes.
In response, the rest of the 83rd – HQ company, including Spike, along with C and D companies – embarked in the 328' Royal Navy-crewed tank landing ship LST-422. The ship motored north through the rolling waves from Pozzuoli, intending to land at Anzio and reinforce their comrades on 26 January. The LST also carried vehicles, fuel and ammunition, including white phosphorus smoke shells. The convoy of 13 LSTs encountered awful weather on the way north, which worsened into a gale as the ships arrived off Anzio at about 0100 in the morning.
Given the backlog of ships waiting to unload at the port, the LSTs anchored in heavy seas to await their turn. Most of the men tried to stay dry and avoid seasickness by sleeping in vehicles on the covered main deck. Spike was with the command staff making last minute preparations for the landing. The storm continued to worsen and many of the ships began dragging or losing their anchor chains, including LST-422.
At 0450 that morning, the tank landing ship itself was pulled by the wind and waves over 400 yards off course where it struck a contact mine. The underwater mine exploded violently, tearing a huge 50-foot hole in the starboard side of the hull. They were over 3 miles offshore.
The explosion, which set ammunition, fuel and vehicles aflame, doomed many of the men sleeping on the main deck. Topside, flames shot out the ventilator shafts and vehicles and ammunition caught fire and began to explode. Within minutes flames engulfed the upper deck and soldiers and sailors began to abandon the shuddering ship, sometimes leaping into the choppy seas to avoid being burned alive or killed by exploding ammunition.
Spike, stationed topside with the command staff, helped evacuate men from the stern. In company with Lt. Edward Trey, who put on a gas mask to avoid phosphorous fumes, the men tried to cut away life rafts but couldn't get through the cables with trench knives. The two men then abandoned ship with Trey lowering Spike, who was possibly suffering from a hidden and likely serious injury, to the anchor cable. Spike hung on to the chain for a few moments before falling into the frigid sea.
Trey jumped in after and repeatedly called Spike's name. He never saw him again.
Despite strong seas and heavy rain, half-a-dozen ships approached the burning LST to rescue the freezing survivors, many of whom suffering from hypothermia in the cold water. During the approach, landing craft LCI(L)-32 also hit a mine and sank, adding to the carnage. Minesweeper YMS-226 quickly began rescuing survivors by hanging cargo nets over the side but the soldiers in the water were so weak from cold that two or three sailors had to climb down the nets and individually pull each man to safety. Thick winter clothing made for added weight and harder work, especially given the rough seas, rain and darkness.
Many of the soldiers died in the freezing water before they could be reached.
Around 0800, with light still dim from sleet and low, dark clouds, a severe hailstorm swept across the anchorage. According to the YMS-226 War Diary, "…that squall cost the lives of many potential survivors. They faded fast after that, and it began to become difficult to distinguish the living from the dead in the water." YMS-226 rescued 39 survivors and recovered 18 of the dead. LST-16 was also in the area and launched a whale boat with a crew of six Coast Guardsmen who rescued men both from the water and took others off the burning wreck, despite the risk of exploding ammunition. Starting at 0700, YMS-43 also picked up survivors, administering artificial respiration that saved 17 more men.
Spike's body was never recovered.
All told, 150 men were rescued. 454 Americans, including First Lieutenant Leonard Abbott "Spike" Merrill, Jr., and 29 British sailors died during the loss of both ships.
Three weeks later, on 19 February, Spike's parents received a returned letter from the Army postal service with a note saying Spike was missing. The official telegram did not arrive until six days later, on the 25th. Three weeks later, on 16 March, the family received an official letter from Major Meyerson (then in command of the 83rd) stating Spike had been lost at sea.
The loss was absolutely devastating. Spike's mother did not open her returned letter until 11 September 1959. Her grandson still remembers how deeply she wept.
That night in January 1944, Leonard's name had echoed across the waters of Anzio Bay. It echoed through the minds of the men that served with him. It echoed through the hearts of his sons, his wife, and his parents that loved him. It echoed through the farm fields and cities in which he lived, trained, and worked. It echoed through the classrooms and hallways of the schools in which he learned, grew, and gained tremendous respect. It echoed through the marble monuments of Italy and the trees of a rustic summer camp nestled in Southern New Hampshire. It finally echoed through a wooden lodge by the waters of Takodah Lake and was cast into bronze and captured for all time to see.
His name had traveled around the world and back again. And while we lost the soldier, we will never forget the man.
Authors Note: Spike's son, Dick, went on to marry a woman who, coincidentally, had attended YMCA Camp Takodah starting in the early 1950s. During the family interviews for this story, Joan (Miskelly) Merrill revealed that while she had earned her CT 10, she had never been given her 10 Year Jacket by Uncle Oscar and Aunt Francis (a long-time Camp Director's tradition that continues to this day.) On Saturday, June 29th, 2019, Joan and Dick attended a ceremony to honor the Lost Takodians of the Second World War in Memorial Lodge at Camp. Immediately following that event, Joan attended a lunch in the Craig Dining Hall. During the post-meal announcements, in the full view and cheer of the assembled boys camp divisions and the administrative staff, Joan was finally awarded her long-overdue 10 Year Jacket (along with her original registration cards.) As she put on recognizable blue zip-front jacket emblazoned with the Takodah logo, the entire camp sang "The Welcome Song." Dick and the other WWII families looked on and applauded. It was an amazing moment that will be remembered by many of those who were there to witness it. Congratulations, Joan! "Live that the sunset may find you!"
Read the next story in the series.
Return to the Lost Takodians of WWII main page.
SOURCES:
Merrill Family letters, clippings, interviews, and documents
YMCA Camp Takodah History, Oscar & Francis Elwell, 1971. Takodah YMCA Archives.
YMCA Camp Takodah Registration Cards. Takodah YMCA Archives.
Ancestry.com Records, Media, and Merrill Family Trees
Fold 3 Records, Media, and Military Documents
history.army.mil
Bastard Battalion: A History of the 83rd Chemical Mortar Battalion in World War II, Terry Lowry, 2009
Keene Evening Sentinel
Historical Society of Cheshire County
Newspaper Archives
Newspapers.com
Rounds Away: History of the 83rd Chemical Mortar Battalion
GlobalSecurity.org
HM LST-422, Wikipedia
Battle of Anzio, Wikipedia
American Battle Monuments Commission
PHOTO CREDITS:
Granite State Monthly
YMCA Camp Takodah Photo Archives
Merrill Family Photos
Ohio Wesleyan University (Slade)
WW2 Colourised Photos
Cushing Academy
Wikimedia
Cushing Academy
Massachusetts Institute of Technology
Picryl.com
NPR.org
ww2today.org
CBI-theater.com
Naval History and Heritage Command
Bastard Battalion: A History of the 83rd Chemical Mortar Battalion in World War II, Terry Lowry, 2009
GlobalSecurity.org
FindAGrave
American Battle Monuments Commission