The Fire In The Sky
Lawrence Alfred Robinson attended Camp Takodah at the age of 12 in 1928, the same year the "old" Dining Hall, now called TPAC, fully replaced the building that would eventually become known as Hobby Nook.
It was also the year that camp was "electrified" using a new 2000w 110v DC Kholder electric plant with wires strung to just a few buildings here and there. Elgin A. Jones, the man that gave Takodah its name, donated a Kodak Cine Special 16mm Camera, a first at Camp. A projector was also purchased. Hundreds of feet of film were shot by various people, including Uncle Oscar and Aunt Francis, staff members, and even a few campers. George K. Ripley, President of the Cheshire YMCA, would regularly take the films for campers to enjoy at reunions that were held every Christmas vacation at the Masonic Hall (now part of the Keene Library.)
Lawrence himself likely appeared in some of the earliest films that were made at camp.
The Infirmary was built that year but it would be nearly a decade before the porch and iconic stone double-sided fireplace would be installed as a gift from Mrs. Kate Davis. A 16×18' "Directors Cottage," now known as the BODO, was also constructed using reclaimed lumber from the septic tank forms that were installed in the spring.
The weekly rate for campers was raised that summer from $8 to $10 (the equivalent of $149 in 2019.)
Through the early 1930s, Lawrence attended Marlborough Public Schools where he repeatedly demonstrated great potential in science, language, and math. By the time war was looming in Europe, Lawrence had grown to become a bright young engineer who worked as an inspector at Minnewawa Manufacturing, a woven label factory in Marlborough, NH.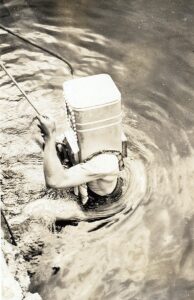 In his spare time, he had designed, built, and tested a custom diving helmet and lead shoes that he and his friends used at Silver Lake near Harrisville, NH. The air was supplied by two bicycle pumps as Lawrence explored the bottom at an average depth of 47 feet! He also built a special "ski boat" that he used to race across the lake when it was frozen in winter. He was a photographer, kayaker, fisherman, and a farm boy — a remarkably accomplished individual for that era!
The Keene Evening Sentinel would later say that "he was very popular in the town."
In 1936, Lawrence was promoted to Superintendent. He travelled to Wuppertal, Germany, then at the height of Nazi power, while working under Ernest W. Blombach, a German immigrant from Knoxville, Tennessee. He went to learn new weaving processes using Jacquard machines, a device fitted to a power loom that simplifies the process of manufacturing textiles with complex patterns. He had completely immersed himself in the German culture, learning to speak the language fluently so he could easily converse with the Minnewawa employees.
While in the heart of the Third Reich, Lawrence felt the twinge of fear in the face of possible war. Every few months, he noticed that large scale air-raid drills were carried out. The occupants of each house were required to "cover the windows with thick black paper so that no evidence of light could be seen by attackers or observers."
Lawrence wrote that "one night a complete drill was scheduled – I went downtown to see what it would be like. Before reaching the city marked my destination, the alarm sounded – the streetcar stopped, and we followed illuminated arrows toward the nearest protection cellar. Before reaching the cellar, I noticed all streetlights had gone out and everything was at a standstill. The cellar was quite large – 2 stories underground – cement – equipped with firefighting apparatus, gas masks, first aid stuff and cots and possibly food and weapons of defense. After planes had flown over to observe the completeness of the drill, life went on from where it stopped. That is organized protection and every citizen knows the fundamentals and rules of it too!"
While that experience impressed Lawrence, he saw the entirety of National Socialism as nothing more than "one great big racket." Although only 20 years old, he was stunned by the grip of fascism, the control exerted by the government and the lack of overall freedoms forced upon the people. He was deeply concerned by these "isms," as he called them, and vowed to have no part in them in Germany or back home. He knew that groups of sympathizers and outright supporters were on the loose throughout the world, including in the United States, and he knew that "if given enough rope, they will hang themselves." However, he stated in his personal journals that "they might become large enough to cause trouble but against a democracy as old as ours and made up of intelligent, free people it can never succeed."
That sentiment stayed strong as he headed home. When Lawrence sailed past the Statue of Liberty in late 1937, he entered New York City a changed man.
As I walked down the gang plank onto the pier, I experienced a wonderful feeling, possibly the same as a person who is just leaving a home of correction and is going thru the big iron gates out into a free sunshiny day. I felt like slapping my friends on the back and loudly announcing the fact I was on soil of a country of freedom. Freedom as a thing I had hardly known existed for 365 days, a thing I had seen a country of people denied of. Now it was mine, if in fact my friends had the same amount of it but they did not realize what a wonderful thing it was for it had never been denied them.
Two years later, Germany invaded Poland and soon the world was at war.
Lawrence had known, from seeing it firsthand, that the democratic powers of the world would be tested and now that time was upon them. He continued his work at Minnewawa, but, as a man who never backed away from a challenge, Lawrence knew it would inevitably be his turn to stand and fight. During the summer of 1940, with American newspapers full of stories about the heroic Allied pilots fighting the Battle of Britain, Lawrence fulfilled his requirement to register for the draft.
On October 16, 1940, Lawrence, at the age of 24, registered with the Selective Service at the Local Board #22, 38 Central Square, Keene, New Hampshire. He continued his work with Minnewawa for nearly a year after that. He kept a close eye on events unfolding in Europe while wondering if he, too, would be called to fight. He continued to ponder his own future, and that of his friends, until he received the news that shook the nation.
Pearl Harbor had been attacked and the country was now embroiled in a world war.
Just twenty days later, on December 27, 1941, after several long conversations with his parents and his employer, Lawrence enlisted in Manchester, New Hampshire as a Private in the United States Army Air Forces.
After several months of basic flight school, he was assigned to the 379th Bomb Squadron attached to the 310th Bombardment Group. Another squadron within the 310th would soon become famous for being the first Air Forces flyers to engage in combat by participating in Col. Jimmy Doolittle's famous "Pearl Harbor Revenge" raid over Tokyo in April 1942. The insignia they wore upon their uniforms depicted the arm of Uncle Sam ripping through a blue circle, gripping a bomb face down, as if ready to smash it upon the very face of the enemy.
The 310th was activated on 15 March 1942 as part of Third Air Force. Their primary focus was training replacements for combat units and operational training of units, crews, and individuals for bombardment, fighter, and reconnaissance operations in various overseas combat theaters. They received graduates of Army Air Forces Training Command flight schools; navigator training; flexible gunnery schools and various technical schools, and then organized them into different combat groups and squadrons.
Lawrence's 379th was activated on 1 April 1942 at Jackson Army Air Base, outside of Jackson, Mississippi, as a B-25 Mitchell medium bomber squadron. They were shifted by truck to Key Field in Meridan, Mississippi, on 6 April, where the 90 enlisted personnel assigned to the squadron received additional basic military training consisting of infantry drill, combat tactics, survival skills and more.
On 11 May, they took a train to Columbia Army Air Field in Columbia, South Carolina, arriving a day later. Soon after they arrived, the 379th received its first seven B-25 Mitchell Bombers, including a TB-25C, a training version of the B-25 "C" variant that had upgraded engines, de-icing equipment, a sighting blister for the navigator and increased nose armament.
The B-25C, which Lawrence would end up being assigned to, was the first mass-produced version of that aircraft for the USAAF, with over 1,600 built by North American Aviation plants in Kansas City, Missouri. With a wingspan of 67' and a length of 54', they were safe, forgiving, and exceptionally sturdy. They could cruise at 25,000' and maintain speeds of nearly 300mph. The only complaint was that the twin-cyclone engines were incredibly loud especially as they roared during takeoff.
But every piece of engineering, no matter how reliable might be, has its operational limits.
After a long, hot summer of learning in the ins and outs of the Mitchell, both air and ground crews boarded a convoy of trucks and headed out to Walterboro, South Carolina. Lawrence, having completed his flight, crew, and combat training, was now a Staff Sergeant.
Within days, they were alerted for overseas duty. The 379th would end up being part of Operation Torch, the invasion of North Africa, later that year. Eventually the squadron flew missions as part of VIII Bomber Command over German-occupied France; attacking enemy troop formations, bridges and airfields.
On 28 August, the air and ground crews departed Walterboro for Fort Dix, New Jersey, in preparation for shipping out to England. The flight crews – 30 officers and 54 enlisted men, including Lawrence – flew to Westover Field in Chicopee, Massachusetts, on 6 and 7 September to make final preparations for the flight over the Atlantic.
As soon as he arrived at Westover, Lawrence contacted his parents and asked them to "immediately visit." On Thursday, 10 September 1942, Mr. and Mrs. Charles A. Robinson went to see their son. That afternoon, the three of them had a two-hour conversation during which Lawrence revealed he was being deployed to combat duty in Europe. He told them that he was inevitably going to have to fight and bomb the very same people he had come to know during his time abroad in Germany. This change of fate was weighing heavy on his soul but Lawrence knew he had to do his patriotic duty and, more than anything, he needed to know he had the support of his family. They reassured him that he was acting with honor and that they were unquestionably proud of the mission he had accepted.
It was the last time his parents would see him.
Owing to shipping shortages in the Atlantic, the longer-range bomber squadrons were ordered to fly the northern route to Britain, via Canada, Greenland, and Iceland. While this route was plagued by bad weather, the demands of war meant the squadrons had to try. On 21 September 1942, Lawrence and his aircrew flew to Presque Isle Air Base in Maine, along with seven other bomber crews, on the first leg of their journey.
The morning of 22 September was dreary, to say the least. Visibility was poor, there was unusually low cloud cover, and it was intermittently drizzling.
2Lt. Ralph L. Drogula, pilot of aircraft #41-13098, was nervous as they prepared to depart for CFB Goose Bay, in the Dominion of Newfoundland, to refuel before their next hop. While 2Lt. Drogula had over 125 hours of training in Mitchells, he had limited training on instrument-only flying and today was certainly going to put what skills he had to the test. Nevertheless, he and his crew, with Lawrence acting as both Flight Engineer and Crew Chief, walked out of the mission briefing ready to get their wheels up and wings aloft.
At 0726, the group of eight Mitchells took off, one by one, in 30 second intervals, struggling to gain altitude as they fought against gravity with overburdened bellies full of fuel, ammunition, and supplies. They formed up at 1,000 feet, increased altitude, spread out, and headed north. Soon after, they realized that two of the aircraft had disappeared. The remaining six aircraft, with Lawrence's B-25C, flew for less than 30 minutes until they encountered heavy weather and were subsequently ordered back to base.
When they landed, they learned that one of the missing planes, aircraft #41-13049 crashed in a wooded area a few miles north-west of Perham Village, Maine. Local residents stated the subsequent blast was heard for miles around and left a large crater in the ground. The tail section was discovered about a quarter of a mile away, which would seem to indicate a structural failure with the aircraft. However, two Nazi sympathizers were later arrested for tampering with an aircraft at Presque Isle leading to speculation that the B-25 had gone down due to sabotage, although "loss of control due to disorientation" was listed as the probable cause by the inquiry.
The other aircraft, #41-13072, had a damaged radio and continued to Goose Bay unbeknownst of the order to return.
At 0830, the remaining pilots, trying to shake off the nerves from the morning's unfortunate events, were briefed on the weather and, once again, were cleared for departure. This time, they took off in five-minute intervals in order to give them more time to form up. 2Lt. Drogula's aircraft, with Lawrence seated under the upper turret-hatch, behind the pilot, copilot, and navigator, slowly climbed into the clouds at 0940.
A few minutes later, a potato farmer living in Fort Fairfield, Maine witnessed Lawrence's bomber come diving straight out of the clouds only 200 feet above the ground. He thought the aircraft was going to nose-drive straight into the field, so he ran for cover. It pulled up at the last second. But, as it strained to level off and regain altitude, the tremendous weight and strain of the aircraft tore off a piece of the right wing. Immediately thereafter the entire left wing broke free and smashed the tail rudder from its footing, sending debris raining down onto the field in all directions.
At that point, there was nothing that could be done.
Lawrence, realizing the aircraft was doomed, instinctively pulled the handle on the upper hatch, releasing it to fall away. He quickly struggled up from his seat, tried to jump free but was forcefully thrown head-first over 100 feet into a large tree. His parachute opened on impact, but he never had a fighting chance to make a proper escape.
SSgt. Lawrence Alfred Robinson was killed instantly.
The aircraft proceeded to smash, headfirst, into the dense woods on other side of Fort Fairfield Road and impact with a furious explosion. A large pillar of smoke and flames marked the site of the crash, rising high above the trees before dissipating into the clouds and fog. The entire wreckage burned out of control, and very little remained of the crew trapped inside. For several minutes after the crash, the ammunition that had been onboard proceeded to "cook off" and detonate in a seemingly endless series of pops and booms.
Rescue crews arrived on site quickly but had to keep their distance until the ammo was spent.
An investigation that took place in the days after the crash determined that Lawrence's Mitchell was too heavily loaded, and the airframe had failed under high torsion stress as the pilot desperately tried to level the bomber which was travelling at excessive speeds due to a steep dive. While there was no evidence of sabotage, which was initially considered, it did appear as though the pilots had struggled with the poor weather conditions and had become disoriented in the clouds. It was a terrible combination of bad luck, limited skill, and over-confidence in an aircraft thought to be entirely reliable.
But not all was lost.
The supreme sacrifice of Lawrence and his crew, including Ralph Drogula, James Crocker, William Finch, Billy Hill, George Simmons, and Joseph Martino, along with the other Mitchell crew lost that week, would directly result in permanent changes being made to pre-flight inspections, instrument training, acceptable weather conditions, and takeoff weights for various bombers used by the USAAF throughout the war.
Even now, the rusted, scattered, almost unrecognizable bits and pieces of aircrafts #41-13098 and #41-13049 can be found in the distant woods of Northern Maine. They sit as a silent reminder of a war its crew never saw but for which they nonetheless paid the ultimate price.
Read the next story in the series.
Return to the Lost Takodians of WWII main page.
SOURCES:
Personal records and accounts from the Robinson Family
"A Year Under The German Swastika: An Eyewitness Story of a Young American Spending A Year In Germany." Lawrence A. Robinson, 1937.
YMCA Camp Takodah History, Oscar & Francis Elwell, 1971. Takodah YMCA Archives.
YMCA Camp Takodah Registration Cards. Takodah YMCA Archives.
Wikipedia: Jacquard loom
Minnewawa company page
Ancestry.com Records, Media, and Family Trees for Lawrence A. Robinson
Fold 3 Records, Media, and Military Documents for SSgt. Lawrence A. Robinson
Keene Evening Sentinel
Historical Society of Cheshire County
FindAGrave.com
Newspaper Archives
Newspapers.com
Wikipedia: North American B-25 Mitchell
US Army Air Forces Accident Report, 1942
US Army Air Forces, Presque Isle Air Base Flight Records, 1942
US Army Air Forces, witness testimonies, 1942
Bangor Daily News article, 25 September 2000, "Crew of '42 plane crash remembered > Wreck of B-25 has lain in Wade woods since flight from Presque Isle."
Keene Evening Sentinel entries from 23 September 1942, and 28 September 1942.
PHOTO CREDITS: