The Irresistible Call

William James Eastty was born on April 10, 1918 in Boston, Massachusetts, the same year the city was ravaged by an outbreak of influenza.

He was the fifth child of Effie Isabel Phipps and George Wilfred Eastty, an Elevatorman who had immigrated from Canada to the United States in 1880. Not too long after William was born, Effie and George separated. Effie, now a single mother with four other children to care for, struggled as a part time piano worker. In January 1919, Effie made the painful decision to give William up for adoption.
She simply had no other choice.
William was adopted by James Garfield Newell, employed by the Lanes Bucket Company, and Mildred Elinor Yost, a housewife, of East Swanzey, New Hampshire. He was baptized and subsequently given a name that would eventually be entered onto military monuments in New England and the Philippines.
Gale Phillip Newell.
By all accounts, he was a wonderful boy who smiled a wide grin every time a camera appeared. One Halloween, he proudly wore a potato sack as a costume! He was adorable. He was lovable. He was blessed. He had found a family that had taken him in and made him one of their own in every way possible.
The Newells lived a decent life in Swanzey with a "very clean, neat, and well kept" five room house and a shiny 1929 Dodge sedan parked in the driveway. He attended the Keene Public Schools where he was an "above average student" and thoroughly enjoyed by his teachers.
In 1931, at the age of 13, Gale registered to attend YMCA Camp Takodah.
As a first-time camper, he enjoyed the newly constructed cabins that had finally replaced the musty old canvas tents. He slept well on the "modern" double-decker bunks complete with hay-stuffed mattresses that had been donated by local alumni. He enjoyed popular classes and cabin activities in Hobby Nook, a building still used for the same purpose today.
That summer, Gale also met Anna Dillon, a full-blooded Crow native who had joined the staff after the Elwell's attended the National Camp Directors Convention in Washington, DC in the early spring.
In 1932, Gale returned to Takodah to find a new Ford Model A 1½ truck which was excitingly used by the staff and campers to draw clay and sand from the C.L. Lane gravel bank on Fitzwilliam Road. Those loads went towards building the far tennis courts on the southern side of "A" Field, known at that time as the "Brown Athletic Fields," and the old badminton court which we now call "The Grassy Knoll."
In 1933, Gale earned his third and final felt "CT" the same year Rosie Smith, a Cherokee native and student from Bacone College in Muskogee, Oklahoma, came to camp to be their most well remembered "Indian Lore" instructor. The Takodah Mother's Club gave $524.10 that year to purchase the famous dining hall silverware, with a CT engraved on the handle of each piece, which was used for decades to come.
For the first time, camp was divided into three divisions. Indian Village, or Buffalo as we now call it, was for ages 8½ to 10 years old. The Stockade, now known as Crowninshield, was for ages 11 to 13. The oldest campers went to The Frontier, or Kingfisher these days, before graduating to the highly acclaimed leadership and staff program. It was era of rapid expansion, substantial investment, constant fundraising, and improved programming in Richmond.
"He always seems to have a good time in the classroom as well as on the athletic field," his friends would write of him in the Keene High School Salamagundi yearbook in 1936. "We know Gale will make a swell postman."
That's what Gale wanted because that's what he knew. A simple, suburban life living in a small town where he could raise a family and be happy. Before that could happen, Gale decided to do his patriotic duty and give something back to his country that had already given him such a strong foundation for freedom.
On September 29th, 1936, at a recruiting station in Fitchburg, Massachusetts, Gale Phillip Newell filled out NRB Form No. 24 and respectfully requested permission to enlist in the United States Navy.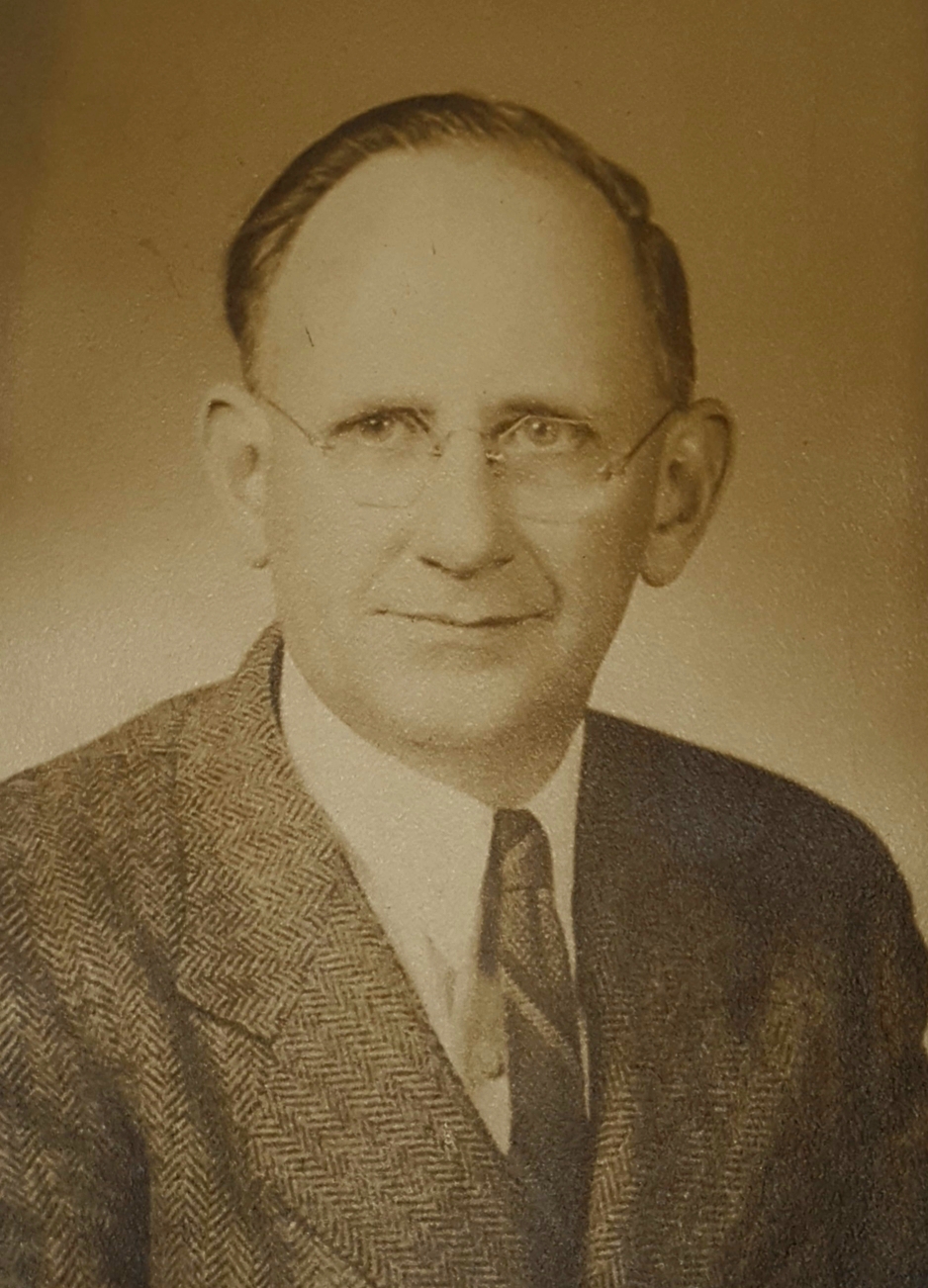 His high school teacher, Mr. Frederick Stearns, PhD., father of Frederick Allen Stearns, a Takodian who would go on to serve with the US Army Air Forces in the Pacific, filled out a 16-B Reference Form for Gale. He stated that "he was in my classroom for one year but by his reputation, I have known of him for three." Mr. Stearns went on to state Gale's reputation in the community was "very good," and that he was always trustworthy and had no questions as to his moral fitness. Mr. Stearns wrapped up the form by saying that Gale was "a small-town boy, somewhat spoiled at home, but excellent possibilities."
On Gale's other reference forms, his teachers, principal, scoutmaster, the foreman of the Keene Public Service Co. and even the Chief of Police continued to describe him as "a conscientious, fine, clean lad. Excellent material" who "couldn't be better."
Gale was processed into the Navy on 11 March 1937 at the Navy Receiving Station in Springfield, MA, and began recruit training at Naval Training Station, Newport, RI, immediately thereafter. He did well in the recruit swimming test, scoring an "A" (the highest level – a tribute to swimming classes he took at Camp) which included skill in saving a drowning person and resuscitation. His character was noted as "intelligent" and he requested to be sent to Quartermaster school. But on graduation from "boot camp" on 8 June, he was sent to Hospital Corpsmen school instead, arriving in San Diego, CA, on 22 June. He attended school between 1 July and 19 October and upon graduation, his rate was changed to Hospital Apprentice second class.
Gale then took a cross-country train back to the east coast, reporting to Navy Receiving Station, Norfolk, VA, on 29 October for further assignment. Two weeks later, he began learning his trade at Naval Hospital, Newport, RI. On 4 March 1938 he passed the training course for Hospital Apprentice first class and was formally promoted on 16 May. At some point during this time, he was hospitalized for scarlet fever, but fully recovered. He continued to work and study at the hospital, where he until transferred to the Naval Torpedo Station at Newport on 10 April 1939.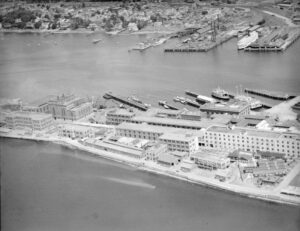 While stationed at Newport, Gale met a lovely friend-of-a-friend named Irene Lillian Battene. They fell in love and were married on Thursday, October 19, 1939 by Edward L. Macomber, Justice of the Peace, at the City Hall in Westport, Massachusetts. Always thinking a few steps ahead, Gale had filed paperwork for a "Commutation of Rations" the day before so he could establish living quarters away from the station once they were married. The Newells proceeded to move into a modest little house at 6 West Young Street, with their full intention to start a family once Gale departed the service.
Two months later, on 16 December, Gale was promoted to Pharmacist's Mate third class.
Gale continued to learn his medical skills into well the new year. In the summer of 1940, with the war escalating in Europe as Nazi Germany conquered France, the United States embarked on a massive rearmament and military reorganization program. Shortly thereafter on 1 September, Gale was transferred to the Headquarters & Supply Company, 5th Marines, Fleet Marine Force, also at Naval Torpedo Station Newport.
By this time, Gale knew he was going to be a father and on 1 December 1940, his son Gale Douglas Newell was born. Being a good, supportive husband and father was important to Gale and, despite firm entreaties from his superiors to reenlist, Gale took an honorable discharge on March 21, 1941, after serving his required 4 years in the service.
He returned to civilian life feeling fulfilled from his service and excited for the family he and Irene were building. It was time to settle down into that simple, suburban life he had always wanted.
But the war got in the way of that plan, just as it did for millions of young men and women around the world. Stories of Britain fighting against Rommel's tanks in the Egyptian desert filled the radio waves. Any newspaper Gale opened had articles of brave Chinese infantry battling the Japanese or the Russians holding off the Wermacht at the gates of Moscow. Newsreels at the movie theater showed soldiers and sailors reporting for duty at bases and ports across the country.
Gale saw all of it, every single day, and felt incredibly conflicted.
He had already served his county and received an honorable discharge. He didn't have to go back in the service. He wasn't going to be conscripted. He had a career in health insurance or even as a Pharmacist ahead of him. Maybe he'd even end up being a postman like he'd thought of in High School.
But Gale was never a man to back down from a challenge, and with his experience and aptitude, a Navy career kept calling to him.
On 7 October, he sent a telegram to the Navy Department requesting permission to reenlist as a Pharmacist's Mate third class and be assigned shore duty at Newport, hoping to work again at the Navy Hospital. He hoped to find a balance between service and family. But, three days later the Bureau of Navigation replied, authorizing his reenlistment at that rank but denying his shore duty request, noting "subject man is due for sea duty."
The writing was on the wall and over the next few months, Gale and Irene talked about what to do. They discussed and debated the choice they both had before them. They talked about their family, their future, the life they wanted to enjoy, and the love they had for each other and for their special little boy.
Then, like a bolt from the blue, came the news of Pearl Harbor.
Now the country was at war. The social pressure to "do your part" against Fascism was stronger than ever. Clearly, they debated and they probably argued. He'd done his part, he was a veteran, had a family to think of. He did not have to go. But the country and the Navy needed him. The call to be part of something larger than yourself is hard to resist.  And Gale also knew that tens of thousands of young, fresh-faced sailors would need experienced hands like himself too.
At 23 years old, Gale had learned what true leadership looks like. He'd seen it practiced by Oscar, Frances, and the YMCA staff at Camp Takodah. He'd benefited from it in the halls and classrooms of Keene Public Schools. He'd practiced the skill himself in the line of duty throughout his previous enlistment. He knew the value of what he had to offer. Gale could feel it in his heart. Irene could see it in his eyes.
And so, they made the difficult decision together.
On March 5, with Irene's written permission and support, Gale formally reenlisted in the United States Navy.
After several weeks of refresher training, he reported to the USS Barton, (DD-599) a brand-new Benson-class destroyer, on the day she was commissioned at the Boston Navy Yard, 29 May 1942.
Gale marveled at the sleek, fast destroyer bristling with 5-inch guns, 1.1-inch automatic antiaircraft cannons — known as "Chicago Pianos" for the way they recoiled – and 21" torpedo tubes capable of unleashing deadly "tin fish." Based on a destroyer class originally designed in the 1930s, her build included wartime modifications based on British experience in Europe, such as adding six depth charge projectors to deal with enemy submarines as well as 20mm antiaircraft guns and extra shrapnel protection given the likelihood of air attack.
She was under the command of Lieutenant Commander Douglas Harold Fox, a Naval Academy grad with a distinguished reputation after service in various ships and shore stations. The men loved the Barton and rallied behind their young, charismatic senior officer.
"The spirit of the little ships reflects itself in that of their crews," wrote Richard A. Shafter, in "Destroyers in Action" printed in 1945. "Destroyermen are a bit apart from the rest of our man-of -war men. On their small ships they have to do without many of the comforts the crews of carriers, battleships, and even cruisers enjoy. They live in cramped quarters. There is no canteen or ships service booth where a man might get a Coke, an ice cream, or a western pulp magazine. Yet the destroyerman, though he beefs about it all and swears it's a dog's life, in his innermost heart glories in the hardships his particular trade imposes on him. He is inclined to look down on the men from the big ships as "softies." His walk is a "destroyer roll." His hat sits precariously on one eyebrow. He is the bane of the Shore Patrol. He will abuse his ship roundly as the most uncomfortable, leakingest, buckingest crate that ever went to sea. But let somebody else pass unfavorable comments on her and he's ready to defend her honor at the drop of a hat."
A survivor of destroyer Borie (DD-215) sunk in 1943 owing to damage sustained when ramming a surfaced U-boat and engaging her crew with small arms fire, when asked why he didn't request a transfer, summed it all up by saying:
No, thanks! There's too much red tape on a big ship. On a destroyer, you know everybody with their good sides and their faults. And everybody knows you. You can't sham on a DD. You gotta' be a sailor, mister.
This was the life Gale joined when he reported to his new command and stowed his sea bag, and photos of his family, in a narrow transom locker, next to a "coffin rack" of steel bunkbeds, so called because when lying down the Sailor's face was only six-inches from the frame above. His quarters were likely forward and below the main deck, and adjacent to the medical storeroom. Having worked in the main Patient Ward at Newport, Gale served as a "medical field technician," otherwise known as a Corpsman or a "Bandage Roller." He was a leading primary care Corpsman, a first-aid trained sailor who dealt with the daily stitches, plaster casts or poultices required in the moving, dangerous industrial plant that is a destroyer at sea.
As part of the requirements of his new enlistment, Gale successfully completed the Pharmacist's Mate second class training course on 13 June.
After fitting out at Boston, Barton sailed to Newport, RI, arriving there 18 June for duty with the Atlantic Fleet. For the next several months, she performed local escort duty and intensive crew training drills while operating along the coast from Portland, Maine to Hampton Roads, VA. On 2 August, given heavy merchant ship losses to German U-Boat attacks that summer, she reported to Commander, Eastern Sea Frontier, for temporary duty. She then escorted battleship New York (BB-34) to her namesake city, light cruiser Savannah (CL-43) to Norfolk, VA, and guarded Massachusetts (BB-59) as she steamed to Casco Bay, protecting each from the real threat of submarine attack.
While the Barton was based in Newport, Gale had frequent opportunities to see his beloved Irene and spend time with his son, who was rapidly approaching two years old. The growth and changes he saw in Doug that summer left Gale feeling a mix of contentment and concern as he knew he was inevitably going into battle and what that might mean. He assumed, like all warriors initially assume, that he would emerge from battle unscathed. But he also knew that the hope of ultimate safety was an illusion best kept within the deepest recesses of a sailors' mind.
Meanwhile, news from the Pacific was increasingly grim.
Following landings in the Solomon Islands on 7 August, to seize a Japanese airbase threatening Allied shipping to Australia, the Allied navies suffered a devastating defeat two days later. In a savage night battle off Savo Island, the Japanese sank four cruisers and forced Allied aircraft carriers and cargo ships to retire eastwards. Left on their own, the Marines held the airfield on Guadalcanal against ferocious Japanese counter-attacks, jokingly referring to it later as "Operation Shoestring."
Air and naval reinforcements were quickly requested. Commander in Chief U.S. Fleet Admiral Ernest J. King ordered reinforcements to the South Pacific from the Atlantic Fleet, including battleships South Dakota (BB-57) and Washington (BB-56), light cruiser Juneau (CL-52) and six destroyers, including Barton. After rendezvous with Washington at New York, Barton then helped escort the battleship south, passing through the Panama Canal between 28 and 30 August.
As the destroyer began sailing through the Pacific, Gale learned that he was appointed Pharmacist's Mate second class, a position that gave him greater responsibility in a medical department full of young Corpsman. He continued to learn his trade and mentor new Sailors as the ship steamed the long route from Panama to the Tonga Islands, arriving there 14 September. She later steamed to Noumea, New Caledonia, where she joined aircraft carrier Hornet (CV-8), two heavy cruisers, two light cruisers and four other destroyers in Task Force 17 on the 26th.
Around this time, Gale received a letter from Irene informing him that she was pregnant with their second child. Gale was once again filled with mixed emotions of pride and panic as he contemplated the reality of his current course with the desire to see his developing family.
But, even so, this was no time to turn his sights toward home.
On 2 October, the warships stood out to sea for a sweep northwest to locate and attack Japanese shipping concentrations around the Shortland Islands. On 4 October, Hornet and the four cruisers steamed ahead at 28 knots, while the four destroyers stayed behind in a scouting line. The next morning planes from Hornet bombed the Faisi-Buin area before the fast warships rejoined the destroyers.
Over the next two weeks, the Task Force covered friendly operations in the Solomons, flying search and combat air patrols that increasingly encountered Japanese aircraft. Barton saw no combat during these operations, though she responded quickly to multiple submarine contact warnings. Her crew dropped depth charges on a contact once, but it proved to be a false alarm. Barton's Skipper also kept them hard at work with antiaircraft and damage control drills.
There is no rest for the weary on board a Navy destroyer.
Following another night battle off Guadalcanal, the Battle of Cape Esperance on 11-12 October, the Japanese increased their pressure, shelling Henderson air field multiple times and sending air sweeps across the Solomons. Following the landing of a Japanese supply convoy at Tassaaronga the morning of 15 October, Hornet responded by sending Grumman F4F Wildcat fighters, Douglas SBD-1 Dauntless dive bombers and Grumman TBF Avenger torpedo bombers to strike enemy targets there and the Japanese seaplane base at Santa Isabel. Barton continued her yeoman work of screening the carrier during these operations.
Over these weeks "Ironbottom Sound" also burnished its name, as both sides continued to lose ships trying to supply friendly forces on Guadalcanal.
Soon, reconnaissance flights, coast watcher reports and signal intercepts all indicated a major Japanese offensive was in the works. Elements of the Japanese Army's 2d Infantry Division, which had landed the night of 11 October, was preparing to attack Henderson Field in conjunction with carrier air support. In preparation to counter this offensive, TF-17 refueled from oiler Guadalupe (AO-32) on 21-22 October. At this time, TF-17 was comprised of Hornet, heavy cruisers Northampton (CA-26) and Pensacola (CA-24) light cruisers San Diego (CL-53) and Juneau (CL-52) and 6 destroyers including Barton. Two days later, TF-17 joined TF-16, built around Enterprise (CV-6) and South Dakota (BB-57) with two cruisers and 8 destroyers, and prepared for battle about 250 miles northeast of Espíritu Santo.
Even though the antiaircraft capabilities of the two groups were about even, South Dakota's firepower was the most powerful. Hornet's group therefore, including Barton, was ordered to take up a position southeast of Enterprise, which would theoretically attract any Japanese attack from the west to fly into the teeth of U.S. antiaircraft defenses.
Although Gale did not know it, this was the first of two times he would serve in the same area as a fellow Takodian. Lieutenant junior grade Raymond Miley Krepps was there too, serving as a junior officer in a radar plot on the battleship South Dakota, then attached to TF-16 as screen for the carrier Enterprise. An incredible coincidence, the two men – who'd known each other at Camp Takodah in 1931 — unknowingly meeting together at a lonely spot on the ocean far away on the other side of the globe.
On 25 October, long-range air patrols spotted enemy ships in an arc north of the Santa Cruz Islands. Both sides closed that evening and land-based search planes, launched before dawn on the 26th, found the Japanese about 300 miles to the northwest. Hornet began launching combat air patrol at 0652 and all fighters were away by 0714
About 45 minutes later, Hornet launched two waves of strike planes between 0832 and 0910. The first wave of 29 planes, when about 60 miles out, reported seeing enemy attack groups closing in. These were the first Japanese strikes from carriers Shōkaku, Zuikaku, Zuihō and Junyō, comprised of Mitsubishi A6M2 Type 0 carrier fighters (kanjō sentōki or kansens), Aichi D3A1 Type 99 carrier dive bombers (kanjō bakugekiki or kanbakus) and Nakajima B5N2 Type 97 carrier torpedo bombers (kanjō kōgekiki or kankōs).
Barton went to general quarters at 0929 and prepared to repel enemy aircraft attacks. At this time Gale would've taken up his battle station with medical personnel below decks. The unbelievable pressure and anxiety would have been kept at bay by keeping bury and remaining entirely focused on the task at hand.
Unfortunately, problems in detecting and tracking the incoming strikes left American combat air patrols out of position, and only a few Wildcats interfered with the first Japanese attacks. To make matters worse for TF-17, a rain squall hid Enterprise from view and the entire Japanese first strike targeted Hornet's group. Barton and the rest of the screen commenced firing with 5-inch and other antiaircraft guns at 1011, as over 40 Japanese Kanbaku and Kankō bombers appeared out of low clouds at about 5,000 feet.
In barely ten minutes, Hornet was struck by at least three 550-pound bombs, two Type 91 air-launched torpedoes and two mortally wounded dive bombers, one of which struck forward of the stack, spilling flaming fuel to the deck below.
Although the flight deck suffered two major hits, and was currently on fire, it was the torpedo damage to Hornet's forward engineering spaces that was worrisome. Significant flooding knocked out power to the fire mains and the rudders were jammed by a third near miss. Even worse, with the engines stopped, the carrier was left dead in the water. While three of Hornet's escorts moved alongside to pass fire hoses and take off wounded, Barton began circling the carrier and firing at intermittent Japanese air attack runs that continued for another hour. At 1109, those attacks ceased, and the destroyer's crew assessed their own damage. During the engagement, Barton suffered only one 20mm puncture in her aft stack, with no men injured, a sharp contrast to the wounded aircraft carrier she was still fighting to protect.
Hornet's crew, with help from destroyers alongside, put out most fires by 1230 and worked with Northampton's crew to rig a tow line. A few minutes later the line snapped. Without propulsion it was difficult to get the flooded aircraft carrier under tow. Repeated attempts failed as destroyers continued to remove wounded and excess personnel. Late in the afternoon, half a dozen Kankōs evaded the few Wildcats still in the air – Enterprise having been damaged earlier in the day – and scored a mortal torpedo hit on Hornet's starboard side, causing an immediate, progressive list.
At 1650 the order was passed to abandon ship and destroyers closed to rescue men in the water.
Barton stood in, draped nets over the side for stronger swimmers to reach while a Chief Boatwain's Mate in the bow used a line-throwing gun to help sailor's struggling to stay afloat. Altogether the crew rescued 235 Sailors, including the future Rear Admiral Francis Foley (then a Lt. Cmdr.), with Gale deeply engaged in providing blankets, food and emergency medical care to the exhausted Sailors.
The task force retired southeast at high speed to regroup and refit. During the battle, Barton's gunners had fired 180 5-inch shells, 1600 1.1-inch and 2,200 20mm rounds, claiming half-a-dozen downed Japanese planes. Over the next few days the warships heard the welcome news that the Marines had held Lunga Ridge and retained control of Henderson Field.
While steaming towards Noumea to regroup, the two U.S. task forces rendezvoused southeast of Espiritu Santo on 28 October. Gale was again near Lt. jg. Raymond Krepps, who'd fought in the Battle of Santa Cruz directing radar plotting in battleship South Dakota. While this was the last time they'd be in the same location alive, though unbeknownst to them, they would soon each reach their final resting places within two days of each other and not too far apart at the bottom of the Pacific.
Just as Barton finished refueling alongside a fleet oiler and waited her turn to transfer Hornet's survivors to a larger ship, she received immediate orders to steam south with all speed to rescue passengers and crew of a Douglas C-47 transport plane, which had ditched against a coral reef about 70 miles northwest of New Caledonia nine days previously. The voyage was difficult, given the many shoals and coral reefs along the route, but excellent seamanship kept saw the destroyer safely to French Reef on the 30th. Upon arrival, the crew learned that a VP-11 squadron Consolidated PBY Catalina flying boat had attempted a rescue the day before but had run aground herself. Both wrecked planes were still on the reef, with survivors waving for help from atop the wings. Despite the dangerous reef, which kept the destroyer 3,000 yards offshore, Barton's crew rigged a line and, using both whale boats and rubber rafts, painstakingly ferried all 17 men to safety.
But her day was far from over.
During transit, Barton's radioman reported that two more Catalinas were disabled and drifting at sea about 70 miles to the southwest. Guided in by another PBY, they reached the two planes early in the evening and picked up 10 men from the first flying boat. While rescuing men from the second aircraft, however, a bollard parted and sent the plane drifting aft while sinking. The survivors abandoned their plane again and another 17 men had to be rescued from the water. Gale, again, would have been engaged in providing medical care, especially the survivors from the C-47 who were shaking from cold and suffering from 10 days of exposure.
Barton, filled to the brim with almost 500 men on board, retired to Noumea to disembark her passengers. Surprisingly, no one was lost in any of these operations. Later, both Lt. John Downing, USN, and Lt. jg. James Sommers were posthumously awarded a Navy and Marine Corps Medal for their successful efforts to rescue men off the reef. Lt. Cmdr. Fox was also posthumously awarded a Navy Cross for his actions during the Battle of Santa Cruz and the arduous task of locating and rescuing the marooned personnel.
The Japanese, rebuffed at Henderson field the week before, were determined to try again. More warships, fuel, supplies and transports gathered at Rabaul with the intention of landing 4,600 men from 38th Infantry Division on Guadalcanal in mid-November. Allied planners, aware of these efforts, gathered their own reinforcements at Noumea and Espíritu Santo. Two reinforcement groups – carrying over 6,000 troops and supplies – departed on 10 November in company with a force of six cruisers and 14 destroyers, including Barton. The main portion arrived off Guadalcanal early in the morning of 12 November and began unloading troops and supplies.
Just after dawn, a Japanese 6-inch shore battery near the mouth of the Kokumbona River opened desultory long-range fire on two ships in Lunga Roads. Light cruiser Helena (CL-50) in company with Barton and destroyer Shaw (DD-373) quickly responded, spending the next two hours firing on enemy positions with hundreds of high-explosive 6-inch and 5-inch antiaircraft rounds. The warships saved their armor piercing ammunition in case they needed it later, which tragically, they would.
After silencing the battery, Barton returned to the transport group. Around noon, the task force received an alert of an incoming Japanese air raid and prepared to repel the attack. Around 1400, almost two dozen twin-engine Mitsubishi G4M torpedo bombers (Ichishikirikkō or Betty's) commenced a low-level attack. Met by nearby Wildcats and the combined antiaircraft fire of three cruisers, nine destroyers and four transports, the Japanese lost 20 of the 21 unarmored land-attack bombers in the attack. There was a reason Japanese airman derisively referred to the G4M as a "flying cigar," given how easily it caught fire when shot at by the enemy. The American victory was tempered by losses in cruiser San Francisco (CA-38) which suffered 16 men killed and 29 wounded when a stricken bomber crashed the ship in a sheet of flame.
At 1800, with unloading complete, the transports retired southeast under guard of three low-fuel destroyers and a minesweeper. The rest of the force combined into TF-67.4 under Rear Admiral Daniel J. Callaghan in a column of 2 cruisers, 3 light cruisers and 8 destroyers, with Barton and three other destroyers protecting the tail end. Through the early evening the column patrolled an area bounded by Guadalcanal, Savo and Florida Islands to await the expected Japanese squadron. The sky was overcast, the moon set, and jagged heat lightning frequently lit the mountains over the islands.
The crew could smell the nearby jungle in the humid, salty air.
At 0124 on 13 November, radar picked up Japanese ships about 27,000 yards to the northwest. This was Admiral Hiroaki Abe's "Volunteer Attack Force" of two battleships, a light cruiser and 14 destroyers steaming in three separate groups. As the range closed to under 5,000 yards, with the first enemy group crossing the front of the column to starboard, gunnery officers feverishly plotted firing solutions. At about 0145, Lt. jg. Harlowe M. White – the senior surviving officer in Barton – observed the lead ships in column suddenly open fire on two Japanese groups, one to starboard and one to port. Caught by surprise, several batteries of Japanese searchlights on Barton's port flicked on to locate the American ships.
Barton's two forward 5-inch guns quickly opened fire on the enemy searchlights, firing about 60 rounds over the next seven minutes. The destroyer altered course to port, which masked her two aft guns – each fired only about 10 rounds apiece – but allowed Barton's torpedomen to launch a spread of five torpedoes at the enemy formation. Suddenly, Barton was forced to slow to avoid colliding with a friendly destroyer just ahead – likely Aaron Ward (DD-433) – and a few seconds later a torpedo from Japanese destroyer Amatsukaze, one of eight fired at 3,000 yards, exploded into Barton's forward fireroom followed by another torpedo which detonated in her forward engine room.
The two massive explosions blew out the bottom of the destroyer, breaking Barton in half as the warship's midsection disintegrated. Lookouts in Fletcher (DD-445) saw her "simply disappear in fragments."
According to Radioman Jack Slack, a few lookouts, gun crews and men in aft steering control "had no chance to jump over the side – we just eased into the water as the stern went down, probably in as little as 10 seconds."
The bow stayed afloat only a few minutes longer.
Pharmacist's Mate second class Gale Philip Newell, who was at his battle station below decks just forward of the engine room, was killed without warning along with 163 of his shipmates early in the morning on 13 November. His body was never recovered.
Gale's final resting place lies within Barton's wreck in 'Ironbottom sound.'
There, Gale was in the company of the many thousands of his fellow Sailors who'd also given their lives in the fight for Guadalcanal. Two nights later, fellow Takodian Lt. jg. Raymond Miley Krepps was killed in action at almost the same spot while serving in battleship South Dakota.
Raymond was buried at sea the next day, joining Gale as comrades of camp and combat, together for all time, deeply entombed in the depths of the Pacific.
Barton's survivors floated in the water the rest of the night, many suffering from burns or from the heavy oil covering the surface, and numbly watched the starshells and gunfire subside. In the morning, two officers and 66 men were rescued by motor whaleboats from Portland and Higgins boats from Guadalcanal.
On 2 January 1943, Irene received a telegram from Rear Admiral Randall Jacobs, Head of the Casualties and Allotments Section, telling her Gale was missing in action. The telegram continues, reading "The Department appreciates your great anxiety but details not now available and delay in receipt thereof must necessarily be expected."
Finally, on 14 November 1943, a year and a day after Gale was reported missing, the Chief of Personnel at the Department of the Navy sent a letter to Irene stating Gale was now officially reported as killed-in-action. The letter ended:
I extend to you my sincere sympathy in your great loss and hope you may find comfort in the knowledge that your husband gave his life for his Country, in order that freedom may again reign throughout the civilized world.
Irene was left to care for Doug and Thomas, the baby boy that Gale would never know. They would honor his memory and to this day, Gale's rank insignia and service medals, including his Purple Heart, are hung in a place of pride for the family to frequently admire.
Barton's bow, severed around frame 50 and with both forward guns still aimed towards their final fight, was eventually discovered in July 1992 during an expedition led by Dr. Robert Ballard, a retired Navy officer. He's also famous for being the oceanographer who found and photographed RMS Titanic in 1985.
"I'll never forget our first look at Barton," reported Dr. Ballard.
It was a sentiment that Gale had felt when he first laid eyes upon her in Boston.
Read the next story in the series.
Return to the Lost Takodians of WWII main page.
SOURCES:
Newell Family letters, clippings, interviews, and documents
YMCA Camp Takodah History, Oscar & Francis Elwell, 1971. Takodah YMCA Archives.
YMCA Camp Takodah Registration Cards. Takodah YMCA Archives.
Ancestry.com Records, Media, and Newell Family Trees
Fold 3 Records, Media, and Military Documents for PM2 Gale Phillip Newell
Official Military Personnel Record, Department of the Navy, National Personnel Records Center, National Archives, St. Louis, MO.
Keene Evening Sentinel
Historical Society of Cheshire County
Newspaper Archives
Newspapers.com
USS Barton, Wikipedia
Naval History and Heritage Command
Douglas Fox, Wikipedia
"USS Barton (DD-599) in World War II: Documents, Recollection, and Photographs", E. Andrew Wilde, 1993
Shafter, R. (1945). Destroyers in Action, Cornell Maritime Press, N.Y., pp. 1-6.
USS Borie, Wikipedia
Cressman, Robert J. (1999). The Official Chronology of the U.S. Navy in World War II, Annapolis, MD/Washington, DC: Naval Institute Press/Naval Historical Center.
Cressman, Robert J. (2006, Feb 27). Barton I (DD-599). Dictionary of American Naval Fighting Ships, Naval History & Heritage Command.
Foley, F. (1992, Winter). Every Good Ship has a Heart. Naval History Magazine.
Foley, F. (1993, Oct). Spartan, Dartin', Barton. Shipmate Magazine.
Naval History & Heritage Command (2018, Aug 29). The Solomons Campaign: Guadalcanal, August 1942–February 1943.
USS Barton (1942). Deck Log entries, 28 May to 31 October.
USS Barton (1942, Nov 1). Report of Rescue Operations, Action Report.
USS Barton (1942, Nov 26). Report of Action of November 12-13, 1942.
USS Mustin, War Diary entry, October 1942.
USS Shaw, War Diary entry, November 1942.
The Lost Ships of Guadalcanal, Robert D. Ballard, 1993
PHOTO CREDITS:
"The 1918 Flu Pandemic: Photos From a Century Ago", Atlantic Magazine, Alan Taylor, 2018
YMCA Camp Takodah Photo Archives
Newell Family Photos
Keene High School Salamagundi
Stearns Family Photos, Timothy Lang Francis

Online Review of Rhode Island History

Shopify, Navy Recruitment Posters

Naval History and Heritage Command

USS Barton, Wikimedia
Lt. Cmdr. Harold Fox, Wikimedia
ibiblio
Warfare History Network
Krepps Family Photos
National WWII Musuem
The Lost Ships of Guadalcanal, Robert D. Ballard, 1993