Blog
Boating has always been a core element of the Takodah experience. These days, we have boats of all shapes and sizes from the smallest kayak to the biggest canoe. Even before we came to settle in the woods of Richmond, boats were enjoyed by campers and staff alike.
Camp Primitive, the precursor to Camp Takodah, likely had at least one small boat in the 1914-1915 seasons that was used on Swanzey Lake. When Takodah was established in 1916 on Tolman Pond in Nelson, we know from photographs and documents recovered from the YMCA of the USA's National Archives at the University of Minnesota Libraries that at least one rowboat was used during the 1916-1918 seasons.
From the get-go in Richmond, starting in 1919, there were definitely a few boats in use. But, like all things we had at that time, they were donated or purchased used, in somewhat rough condition, and not suitable to meet the long-term expectations of a rapidly expanding program that quickly became an essential part of growing up in and around Cheshire County. When "Uncle" Oscar and "Aunt" Frances Elwell arrived at our Y in 1921, they knew that we were going to need more than a few old wooden "sinkers" and oars that, if they weren't careful, notoriously gave people splinters.
And that's where the Ripley family, owner and operators of the Troy Mills, came in to help.
Fuller Ripley, born in 1911, joined us a camper starting in 1922. When his father, Franklin, and his uncle, George, visited Camp to see the program and property for themselves, our best guess is that two things happened: the locally known business owners could see that Takodah needed their support and Oscar, being a master fundraiser and community builder, knew he would have to take full advantage of it.
We have no doubt that as Oscar gave the Ripley brothers a tour of camp, while passionately painting a picture of his vision for how it could develop from a meager collection of canvas tents, a few wooden structures, and some secondhand equipment to one of the best summer camps in the country, one thing would have stood out for all to see. It would have been shining in the sun just as it does now. It would have carried the echoes of happy children in the exact same way it does today. It would have captured the reflections of the trees upon the shores, the clouds floating by in the sky above, and the unending smiles of kids jumping in to take a cool swim on a hot day.
Cass Pond.
You can almost imagine Fuller, your typical 11-year-old Cheshire County camper, standing next to his dad upon the dock while they had the same feeling we all feel when we see the lake. It's not only the peace of its pristine beauty, but also the potential for what we know is sure to be as fun as it is refreshing. As they walked around the small, rustic waterfront, they would have come upon one or two rowboats that had definitely seen better days. At some point, that caught their attention.
Regardless of the spartan conditions of camp at that time, Fuller clearly enjoyed his overall experience. He came back as a camper until 1926, earning a CT 5, and then returned to work as a Leader in 1930. He was one of the lucky few that got to know Takodah long before it was totally transformed by the Great New England Hurricane of 1938.
However, when Franklin picked up his son on Closing Day in July of 1922, we suspect Fuller must have mentioned something about camp needing better boats so he and his new cabin-mates could see and do more upon the ripples of the water. Perhaps they all tried to go boating during Free Time but some of them had to stay on dry land. Perhaps they wanted to have a Cabin Activity to explore the shore all the way around but there simply wasn't enough seats. Perhaps they were even told that they were too young to take the rickety old boats out safely by themselves. The conversation might have even happened at his house when the family gathered to hear about Fuller's exciting adventures for what was likely his first time away from home. George might have been there as well and somehow the topic of the boats came up again, probably because they, too, had grown up exploring the lakes and waterways of New Hampshire. And so, the brothers decided together that they would donate two boats, one each, for use starting the following season.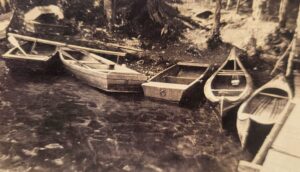 They were selected and delivered in September or October of 1922, perhaps even in time for a gathering of Takodians that Fall. Camp now had at least 5 boats, which was plenty to meet the needs of our earliest years.
This simple donation of basic equipment, however, was the start of something much bigger. Oscar knew exactly how to seize upon the opportunity to get the Ripley family more involved in what was happening way out on Fitzwilliam Road. From that point on, Franklin quietly supported our Y throughout the 1920s and 1930s. His financial generosity allowed us to build a foundation that would grow into the remarkable property and program we have today. George joined the Board of Directors in 1927 and, starting in 1934, he went on to serve as President for an astonishing 30 years. He would continue to support Takodah until his death in 1982. Fuller would go on to join the Board in 1945 and served on the Executive Committee with his father in 1946, the year Memorial Lodge was dedicated. He would eventually be known as the "Renaissance President" of the Board when he took over the Chair from 1968-1971 during the time when the Elwell's transitioned into their retirement.
But that's not all.
Fuller's children and grandchildren all came to Camp Takodah. His son, Barry, joined the Board upon completion of his military service and served as President from 1984-1987. Barry's children – Heidi, Deborah, Rosemary, and Andrew – are also accomplished Takodians in their own right as campers, leaders, committee members, and more. Even the extended family, two aunts and a few cousins, got to know our french green oasis.
In 2018, Rosemary joined our Y as an Independent Trustee and then, at 6:43 PM ET on Wednesday, August 17th, 2022, a vote was taken in the Ferranti Conference Room at the Lake Street Headquarters of the Takodah YMCA. The decision was unanimous. Rosemary Ripley was now a member of the Board of Directors, continuing her family's century of leadership, philanthropy, and support for a camp that "marks ever the place that I'll take for my home."
As she said to the Board, "I am excited for, and honored by, the opportunity to continue to serve Camp Takodah, by honoring its past and helping build its future, to continue the legacy for the next generations to come. The world needs Takodah."
We couldn't have said better, Rosemary. The world does indeed need Takodah and Takodah needs support from people like you. And to think it all started with one camper, two brothers, a few boats, and a family's desire to help build a place that truly is "friendly to all!"