The Longest Night
When Raymond Miley Krepps, Jr. and his little brother, Dick, traveled up to Keene, NH from Lewiston, PA in June of 1931 to visit their grandparents for the summer, "Raymie" was quietly concerned that he wouldn't have any friends to play with. His Grandmother, Jessie Fitch, recommended that he tack on a session at the local YMCA resident camp to meet some new boys, benefit from quality play time in the woods, and to take a break from the business of being a big brother. The Y had a great reputation in the region, as it still does today, and Jessie had heard good things about the growing program in Richmond.
In early July, Raymond arrived at Camp Takodah to find a beautiful property with sweeping hemlock groves, a wide-open athletic field, freshly painted green cabins, and a brand-new building that had just been built, complete with a tall, elaborate totem pole topped with an odd-looking bat placed out front. When he heard the name of the building, he immediately knew he was in the right place: Friendship Lodge.
As a handsome and outgoing 12-year-old who loved to sing songs and talk about his dog, his family, and the times he lived in Boston and Brooklyn, Raymond was perfect for camp. When he proudly took his CT 1, a small hand-sewn felt triangle patch that represented his session at Takodah, back home in August, he took along fond memories of swimming, sailing, sports, and so much more.
Just seven short years later, that one special summer spent making new friends along the shores of "Echo Lake," as Cass Pond was called in those days, would prove to have laid the groundwork for a life he wanted to spend on the high seas in service to his country.
After graduating second in his class from Lewistown High School in 1937, Raymond was awarded First Honors in science and mathematics from Rensselaer Polytechnic Institute and High Honors from Severn Prep in Maryland. Soon after, he was selected for the United States Naval Academy as the first appointment by a World War One veteran from his district. During his entrance physical exam, the Navy doctors noted Raymond had nine notable scars on his hands, legs, torso and skull – interestingly, Raymond was both missing the "terminal phalanx" (tip) of his ring finger on his left hand and had a 2-inch 'healed surgical scar' (likely from stitches) on his lower chest. Clearly Raymond had a rough and tumble boyhood, which would serve him well on the athletic fields in Annapolis
He formally entered the academy on July 14, 1938.
"Kreeps," as his fellow Midshipmen called him, worked extraordinarily hard during his time in Annapolis. He achieved strong class standings in academics, played baseball, built and flew model aircraft, and used his notorious "tenor voice to sing carefree, sentimental songs." He also got some sea time under his belt, participating in three-month summer training cruises out of Chesapeake Bay in the old battleship New York (BB-34) in 1939 and destroyer Babbitt (DD-128) in 1940.
And then, Raymond's world was permanently changed on December 7, 1941.
Shortly after war was declared by the United States of America on the Empire of Japan, the Naval Academy sped up the graduation dates for his class. Just twelve days later, Midshipman Raymond Miley Krepps, Jr. was commissioned into the US Navy along with 563 other young academy grads. As his close friend wrote of Raymond in The Lucky Bag yearbook, "you can be certain he'll always put out the straight dope. Good luck, Kreeps!"
From Annapolis, Raymond visited Keene for Christmas before reporting to the Commandant, 1st Naval District for specialized training in radar technology and operations at the Massachusetts Institute of Technology in Boston. After passing the radio engineering course on 19 February, Raymond transferred to the Naval Research Laboratory at Anacostia Station in Washington D.C. on 23 March. There he took a two week intensive radar operations course, which he passed with 'good' marks though the instructor called his 'attitude and interest' only 'fair.'
Detaching on 24 April, Raymond took the train home to Keene for three days of leave before reporting for duty in battleship South Dakota (BB-57) on the 29th. The brand new warship was then fitting out at the Philadelphia Navy Yard but would not be ready for her shakedown cruise until early June. It's doubtful the radar was even installed yet. In any case, there was no work for a radar officer in a shipyard so Raymond was temporarily reassigned to his first ship, battleship New York (BB-34), to gain some 'at sea' experience. Affectionately called "The Old Lady of The Sea," the veteran warship was then escorting troop and cargo ships to Iceland and Scotland. Raymond joined her for the second escort mission, which sailed from New York to Iceland in early May. Upon the battlewagon's return across the Atlantic, New York encountered an ice flow estimated to weigh more than the combined fleets of the United States, Great Britain, and France. One iceberg came so close to the ship that Raymond could practically reach out and touch it. Presumably Raymond got some on-the-job training in radar operations while enroute, especially given the danger of German surface warships.
Raymond avoided a second trip across the Atlantic in late May, debarking the battleship at Portand, Maine, and traveling to Keene for another three days of leave. He told his grandparents all about his adventures. Soon enough, word got out around town and the local paper published a story featuring Raymond's brief but joyful return to Cheshire County.
On 01 June, Raymond headed south to Philadelphia to rejoin South Dakota. When he arrived he received the welcome news of his temporary promotion to Lieutenant (Junior Grade).
On 5 June, South Dakota began a three-week shakedown cruise. She was escorted at all times by four destroyers, both to train her crew in formation sailing and due to the serious threat from German U-boats. Throughout those weeks, she tested engines, combat systems and fired her various weapons, including her 16-inch cannons, to ensure they were free of any structural problems that would inhibit their use in combat.
During those hectic weeks, Raymond had a chance to take care of an important piece of personal business. On June 23, 1942, while the warship took on ammunition, marriage license 6234 was granted to Raymond and his sweetheart, Janet Elaine Wheeler, in Queens, New York. They were happily, and hurriedly, married in city court later that afternoon.
Raymond and Janet spent a very quick two-day honeymoon together before South Dakota again put to sea. It would be Raymond's last leave. Following more training off New England in late June, the battleship sailed for Hampton Roads, Virginia on 8 July. From there, she cruised back north to meet the battleship Washington off the coast of Maine before anchoring at Casco Bay on 21 July for gunnery practice, which would have included radar assisted targeting. The battleship then spent two weeks in Philadelphia fitting out for duty in the Pacific.
Soon after, South Dakota was declared "ready for active duty."
On 14 August, Rear Admiral Willis Lee hoisted his flag in South Dakota as Commander, Battleship Division Six. He, and the warship's captain, Thomas L. Gatch, agreed on the importance of radar-controlled long-range gunnery and trained the crew accordingly. Raymond would play an integral role in implementing those tactics, including the use of radar for early warning of enemy air attacks.
That week, Raymond sent a carefully worded letter to Janet informing her that he would not be coming home before he put to sea on 15 August. He assured his bride that he loved her, missed her, and hoped to see her as soon as possible. After all, they had big plans for their future together.
In company with three destroyers, South Dakota transited the Panama Canal on 21 August before steaming to the Tonga Islands, and anchoring there on 4 September. Unfortunately, the battleship struck an uncharted coral pinnacle in Lahai Passage two days later, forcing the bruised battleship back to Pearl Harbor on 22 September. There she received repairs to a 150-foot long gash in her hull plating and received an additional four quad 40mm mounts and 22 single 20mm antiaircraft guns, bringing her to a total of 58 close-range antiaircraft guns.
This firepower would be put to good use in the battles to come.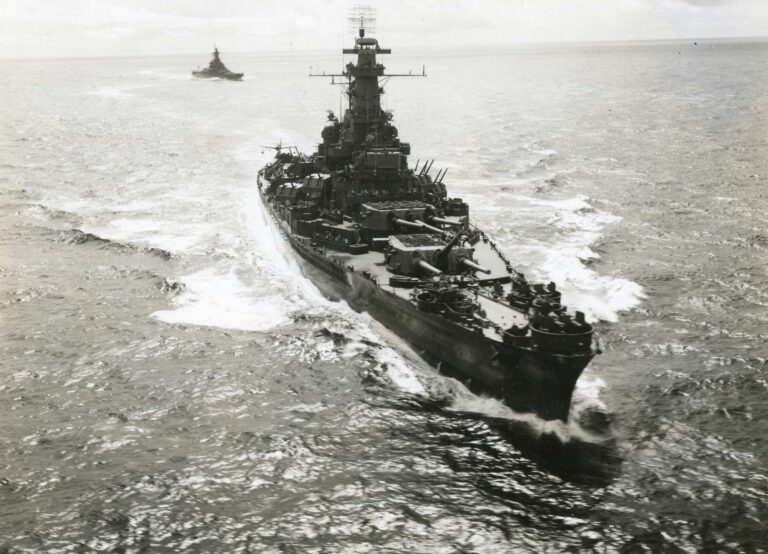 By early October, South Dakota was ready for service once again and began training with Task Force (TF) 16, which included the famous aircraft carrier Enterprise (CV-6). Within few days the Task Force left Pearl Harbor to join TF- 17, centered around the equally famous carrier Hornet (CV-8). The combined Task Force was then ordered south to block any Japanese forces from recapturing Guadalcanal. During that time, Captain Gatch repeatedly called his crew to battle stations for gunnery practice, an evolution conducted so regularly that his crew soon referred to the skipper as "Gunpowder Gatch." Standing at battle stations through multiple watches also gave the galley practice in feeding men throughout the ship, a skill likely needed soon.
Raymond's first exposure to the harsh reality of naval combat came during the Battle of Santa Cruz, which started on 25 October when long-range search planes first discovered enemy ships along a wide arc northwest of the Santa Cruz islands. The opposing forces closed in during the night. In the words of the ships' Chaplain, the following morning "opened hazy, misty and dirty grey."
Enterprise took the lead, steaming in the center of a circle protected by South Dakota, two cruisers and eight destroyers, while Hornet followed ten miles to the southwest in TF-17, protected by four cruisers and six destroyers, including destroyer Barton (DD-599).
By 0715 on 26 October both sides spotted each other and launched air strikes. Stationed in South Dakota's Radar Plot 1, Raymond helped alert the task force to the first Japanese air attack, which was comprised of 64 aircraft. This wave concentrated on Hornet and shortly after 1000 two torpedoes, three bombs, and two crashing planes left the carrier ablaze. South Dakota recorded that Hornet and her group disappeared "except for a column of smoke."
Less than ten minutes later, Raymond's radar plot recorded more Japanese planes inbound at a range of 76 miles.
As the second Japanese strike closed, a bizarre accident claimed one of Enterprise's escorts. A crippled TBF-1 Avenger, returning from an earlier strike, was forced to ditch at sea. The impact broke loose her hung aerial torpedo which ricocheted almost 1,500 yards and struck destroyer Porter amidships, dropping her out of formation to eventually sink. The screen shifted to cover the exposed gap, with South Dakota taking a position astern of the carrier, placing herself between Enterprise and the approaching Japanese planes.
At 1014 that morning, 19 Japanese carrier bombers came diving out of the clouds and closed to attack. South Dakota's anti-aircraft armaments quickly sprang to life, firing stem to stern, all her 20mm, 40mm and 1.1-inch guns blasting. One of the F4F Wildcats in the area noted a "ring of fire" blazing from the battleship that enveloped attacking enemy aircraft in a veritable cone of tracer shells.
Despite shooting down seven attackers, the Japanese bombers managed two direct hits and a near miss on Enterprise, setting the carrier on fire and temporarily knocking out one flight deck elevator.
Almost an hour later a third Japanese strike, this time 16 torpedo bombers, lined up to conduct an anvil attack on Enterprise. The strike divided into two groups of 8 planes each and closed the carrier 90 degrees apart with the intention of launching perpendicular torpedo attacks. As the Japanese pilots skimmed their aircraft low across the waves, South Dakota's gunners opened a terrific point-blank fire, raking the attackers who flew close by. One pilot pressed an attack against the battleship, but his plane was set afire and he dropped his torpedo late. To the shock of South Dakota's antiaircraft gunners, the tin-fish soared above their heads, over the main deck, and plunged into the water just 20 yards to port.
And yet, the day was far from over.
At 1201, Raymond's radar plot picked up a fourth strike of dive bombers which eventually dropped out of the clouds close by. At 1219, South Dakota's gunners opened fire again but could not prevent a 500-pound bomb from hitting on her Number One turret. The bomb literally bounced off the armor, which led her gunners to jokingly refer to Turret One as "the bomb shelter." The resulting explosion wounded Captain Gatch, who was standing out on the catwalk in front of the bridge to spot enemy planes. A bomb fragment hit him in the neck and the force of the blast threw him into the conning tower, knocking him unconscious and damaging his left arm. Despite the temporary loss of their Captain, South Dakota fought on, driving away the last of the attackers who scored no hits on Enterprise.
This proved to be the last strike of the day against TF 16 and Raymond's radar station sounded the all clear at 1530.
Fate was not so kind to carrier Hornet, however, which suffered several critical hits by Japanese planes in last ditch strikes just before dusk. The mortally wounded carrier was later abandoned, and American forces withdrew towards Nouméa, leaving Enterprise the last remaining operational U.S. fleet carrier in the South Pacific. Although the Japanese had scored a tactical victory, they had lost 99 of the 203 planes involved and were unable to neutralize the U.S. air base on Guadalcanal. And while the U.S. had lost 80 of their 175 planes, the Americans could replace losses at a significantly faster pace than the Japanese.
South Dakota herself lost one Sailor killed to a bomb fragment and another 28 men wounded.
During the engagements that day, South Dakota fired over 8,000 high explosive shells and 52,000 20mm rounds. She was credited with downing 10 enemy aircraft, the clear majority shot down by her 20mm machine guns. The heavy anti-aircraft fire devastated attacking Japanese planes, disrupting their accuracy and stunning their pilots. One Japanese staff officer recalled his shock upon seeing surviving aircraft land on carrier Junyō:
The planes lurched and staggered onto the deck, every single fighter and bomber bullet-holed. Some planes were literally flying sieves. As the pilots climbed wearily from their cramped cockpits they told of unbelievable opposition, of skies choked with shell bursts and tracers.
For her actions that day, South Dakota received her first Navy Unit Commendation and Capt. Gatch the Navy Cross, as well as a Purple Heart for his wound. Gatch proved an unruly patient though, denouncing his medical officers when they wouldn't let him immediately return to duty. This endeared him to his crew and, despite the pain of his left arm hanging useless, Gatch steadfastly commanded the ship during the subsequent second Battle of Guadalcanal.
While steaming towards Nouméa to regroup, the two U.S. task forces rendezvoused southeast of Espiritu Santo on 28 October. Destroyer Shaw (DD-373) came alongside South Dakota at 1635 and transferred some 300 survivors from Porter and some aviators rescued from the sea. South Dakota's crew, with Raymond assisting, generously provided clothing, food, mattresses, and cigarettes to the exhausted survivors.
The rendezvous was also telling for a more personal reason.
Although he did not know it, Raymond was very close to another alumni of Camp Takodah at that time. Gale Philip Newell was there too, serving as a Pharmacy Mate second class in destroyer Barton, which was attached to TF-17 and had screened Hornet during the battle. The coincidence was incredible. Two men, who had each been at the same camp and had very likely known each other over the summer of 1931, both joined the Navy, served in different ships and then were unknowingly together at a featureless spot in the sea on the far side of the world. Also unbeknownst to them, the two men would soon reach their final resting place not too far apart at the bottom of the Pacific.
Takodah brothers, together forever.
Following the rendezvous, the combined force continued south. Unfortunately, two days later, South Dakota's poor navigation luck returned. During the midwatch, a submarine sonar contact forced the battleship into an emergency turn and destroyer Mahan (DD-364) slammed into South Dakota's starboard quarter, crumpling the destroyer's bow. Both ships steered for Nouméa where repair ship Vestal (AR-4) quickly patched up South Dakota's damage between 1 and 6 November.
It was at this time that Raymond sent his mother, Pauline, his last letter.
About Xmas, Mother, don't do anything. There is nothing I need – except about a month's leave in the states – and I don't think you can give me that. Money is always handy, but why not just buy something real nice for Janet since I can't get next to any place where I can buy presents and send it to her as a gift from me, and that can be your way of giving to me, for I want nothing for myself – everything for her.
He closed the letter by saying "read your history books about five years from now and you'll find that it was in the making this year."
How right he was. And although Raymond and his shipmates had already been through so much, the next 72 hours would put them through so much more.
Repairs to Enterprise delayed the task force's sortie from Nouméa and it wasn't until 11 November that the warships put to sea. Two days later the crew heard of the devastating losses suffered in the 1st Naval Battle of Guadalcanal the night of 12 and 13 November. Two American light cruisers and four destroyers were sunk, including Barton – in which Gale Philip Newell was killed in action – and a third light cruiser was lost the following morning. Ordered to create a battleship striking force in response, Rear Admiral Willis Lee detached Task Force 64, comprised of battleships South Dakota and Washington as well as destroyers Benham (DD-397), Gwin (DD-433), Preston (DD-379) and Walke (DD-416), and steamed west toward Guadalcanal. Enterprise, cruisers Northampton (CA-26) and Pensacola (CA-24) along with eight destroyers steamed to the southwest to keep the range.
Meanwhile, the Japanese closed Guadalcanal from the northwest in two groups, an attack force of two battleships, three cruisers and eight destroyers and a sweeping force of one light cruiser and three destroyers. An additional three light cruisers and 12 destroyers escorted a light carrier and 11 transports carrying a landing force to attack Guadalcanal. During daylight hours on the 13th and again on the 14th, repeated air attacks by Enterprise and from the American air base on Guadalcanal sank the damaged Japanese battleship Hiei, a heavy cruiser and seven of the 11 approaching Japanese transports. The rest, undaunted pressed forward.
The race to stop them that night was on.
Arriving just ahead of the Japanese, Capt. Gatch surveyed the waters off Cape Esperance. The night air was clear with a slight breeze and a bright moon illuminated the dark jungles ashore. After a moment of quiet contemplation, he said two words that electrified the warship.
"General Quarters."
At the same time, in the radar station, Raymond and his fellow technicians, detected what they initially thought were enemy surface contacts but turned out to be a small rain squall. They re-tuned the equipment and kept trying until they confirmed contact with two enemy ships at 18,000 yards. These were Japanese light cruiser Sendai and destroyer Shikinami. Then, Admiral Lee sent the following short message to Capt. Gatch:
"You may open fire when you are ready."
With the order given, South Dakota increased speed as her fire controlmen plotted target solutions. With the constantly shifting course and speed, it was a non-stop, fast-paced tactical chess game of gambits, guessing, and calculation as analog computers clattered out estimated enemy positions. Raymond's radar hut helped track the targets as firing solutions solidified. South Dakota's gunners had the Japanese in their sights. The time to act was now.
At 0017, battleship Washington took the first salvo, igniting the night with flame and thunder from her powerful main battery of 16-inch guns. Less than a minute later South Dakota fired her first salvo. Capt. Gatch later recalled his ship "gave a convulsive, sideways whip, as all three turrets let go at once." Each Mark 6 cannon, housed three to a turret, fired a devastating 2,700-pound armor piercing shell that ripped through the air at over 1,500 miles per hour. The nine shells straddled the Japanese ships and water geysers bloomed. Alarmed enemy radio transmissions filled the night. At 0019, South Dakota fired a second salvo and then a third one minute after that. Although both battleships reported hitting their targets, Sendai made smoke and the cruiser Shikami came about and fled, unscathed.
Over the next four minutes, South Dakota's gunners rapidly fired five more salvos, this time at the first two Japanese destroyers to emerge along the west side of Savo Island. The whole warship shuddered as her guns roared, pounding destroyer Ayanami into a flaming wreck. The quarter-moon gazed down on the now choppy waters, reflected moonlight illuminating black smoke floating in the tropical night air. Inside the ship, the distinctive smell of cordite filled the passageways, growing stronger each time her guns hurled their fury across the waves.
South Dakota's turret gunners, having loaded and fired their huge guns eight times in six minutes (a testament to their operational training and almost ballet-like choreography), took a momentary respite as radar and optical spotters desperately searched for new targets. Within a few seconds, Raymond's radar team marked more ships emerging from behind the island. This second enemy force, comprised of light cruiser Nagara and four destroyers, was initially engaged by the four U.S. destroyers ahead of South Dakota, which forced a course change to unmask the battleship's guns. Over the next four minutes she fired five salvos at Nagara in rapid succession. At the same time, her secondary 5-inch batteries engaged the Japanese destroyers. Everyone on board was moving like a singular creature as they used every ounce of training and courage they had in store.
As the furious gun battle continued, enemy shells began skipping past South Dakota. Suddenly the bridge crew saw destroyer Walke explode just ahead of Washington, the victim of a direct torpedo hit. They took to the radio to inquire if the battleship had been damaged.
"We are okay," Washington replied as the destroyer Preston simultaneously reported "am okay, one hit in fireroom."
Moments later though, Preston took a salvo of 5.5-inch shells from Nagara that sliced open her firerooms and toppled both smokestacks. The flames attracted additional fire from nearby enemy warships, and she sank a few minutes later. It was then Benham's turn to take a torpedo hit, which blew a huge hole in her starboard side. The destroyer slowly turned away to seaward.
The U.S. force, quickly reduced from six to three ships, then suffered again as South Dakota suddenly lost all power. A circuit breaker failure repeatedly tripped switchboards and power generators, shutting off electrical fire control and radar equipment in the aft part of the ship. Current came and went for the next five minutes, an eternity in the heat of battle, but South Dakota pressed on. The stress at Raymond's station in the hot, cramped radar room started to set in as she passed the damaged Benham to port.
During a brief lull in the firing, the crew could see men in the water waving flashlights and pleading to be rescued.  But the time to stop and render aid was not at hand. Not then. Not yet.
At 0040, South Dakota resumed firing at targets near Savo Island at a range of 15,000 yards. A minute later the main radar lost power and the battleship lost station keeping, veering away from Washington. Her gun crews kept firing and her sixteenth salvo, aimed by turret three at a target almost directly astern, set her own OS2 Kingfisher floatplanes ablaze. Her seventeenth salvo then blew both planes overboard. The battleships aviation unit later presented the gunners two miniature flags, in good nature, in commemoration of the incident.
Although restored power at 0046 allowed Raymond to start pinpointing enemy positions again, it was too late. Gunflashes had temporarily blinded most of the men in South Dakota's conning tower and the battleship unwittingly steamed closer the Japanese formation, by now reinforced by battleship Kirishima. At the same time, the combination of friendly destroyers Walke and Preston burning behind her and the guttering flames from her own wrecked seaplanes, alerted the Japanese to her location.
At 0048, at least four enemy searchlights trained on South Dakota from just 5,000 yards, lighting her up for all to see. Washington immediately opened fire and quickly managed to put the lights out. It was to no avail as a second and then a third enemy warship illuminated South Dakota as if to say: "that's the one we want."
But the South Dakota was far tougher than the Japanese commanders realized.
With power flowing once again, her main and secondary batteries resumed firing, savaging the Japanese warships at close range. Shells from both U.S. battleships pummeled Kirishima. At the same time Japanese gunfire concentrated on South Dakota and at 0049 she received the first of ultimately 26 hits, a 5-inch shell tearing through the 1.1-inch clipping room.
Washington asked, "Are you alright?"
"Everything seems okay," South Dakota replied in what would be her last message before her radio was knocked out.
Japanese shells of varying sizes continued to slam into the battleship in rapid succession, wreaking havoc to her foremast structure. The heavy fire knocked out radars, fire-control instruments, directors, radio antennas and damaged Turret Three. Additional hits ruptured fuel compartments.
At 0057, on November 15, 1942, South Dakota sustained two direct hits from Japanese 6-inch shells that slammed into her radar plot. They ripped through the bulkheads, penetrated the connecting passageway, ruptured steam lines, smashed and burned compartments, and left several large gaping holes in the outer hull on the other side.
Lt. (jg) Raymond Miley Krepps, Jr., who was at his station and calling out surface contacts and firing solutions until the final moment of his life, was killed without warning. The last thing he would have heard was the sound of gunfire as the warship fought back with all she could give.
Over the next 11 minutes, South Dakota continued to take hit after hit while returning heavy fire with all batteries. Damage to her superstructure continued to pile up and loss of fire control directors and multiple radio antennas rendered the battleship practically deaf and blind. Unable to raise Washington by radio, South Dakota broke off the engagement at 0110 and retired to the southwest, focusing her efforts on fighting the many small fires, treating the wounded and repairing battle damage. At 0130, South Dakota's crew witnessed a large explosion astern, likely the burning Japanese battleship Kirishima, which capsized and sank two hours later.
Finally, around 0155, the sounds of battle faded as the final echoes of gunfire rippled across the ocean. The surviving enemy had retreated, but at great cost. Preston and Walke both sunk, Benham abandoned and scuttled the following morning. South Dakota herself suffered 40 dead and 180 wounded and later received the Navy Unit Commendation for her role in the battle.
South Dakota's crew worked throughout the night to locate them. Watch standers passed the word through the ship's loudspeakers for volunteers to ascend to the tower foremast to assist the wounded. Reaching some of the casualties proved difficult because Japanese shells had started fires, shot away ladders and blasted steel bulkheads into twisted metal. Given the wreckage, the living were sometimes sewn into canvas bags and lowered by rope lines to the main deck for medical care.
Among the wounded was 12-year-old Seaman first class Calvin L. Graham. Calvin, the youngest of six children on a farm in Crockett, Texas, enlisted in the Naval Reserve in April 1942 after telling his mother he was visiting relatives. The young man stood only 5'2″ and weighed 125-pounds, but he wore his older brother's clothes and spoke in a deep voice to deceive the recruiters. Graham served in a gun crew on board the battleship and was severely wounded in his face and jaw by fragments from Japanese shellfire. Despite the pain, Graham continued to man his gun, and helped pull other crewmen to safety.
"I took belts off the dead and made tourniquets for the living and gave them cigarettes and encouraged them all night," Graham said. "It was a long night. It aged me."
At only 12 years old, Graham was the same age as Raymond was when he started at Camp Takodah. He was later awarded the Bronze Star and the Purple Heart.
The ships' Chaplain, Capt. James V. Claypool, led a team that included the ships' dental officer to collect and identify the dead. This was a gruesome task given the damage done to bodies by high explosive shells. Despite later cleaning with formaldehyde, many spaces in the ship reeked of death for weeks. The Chaplain changed his uniform three times during the emotionally fraught process. As only 10 of the dead still had their identification tags, the team carefully examined the torn and shattered bodies, using laundry name tags, dental and medical records or personal effects such as books, letters, and pens to identity the fallen.
The effects were sealed in envelopes and, together with property from the men's lockers, were sent home to their families.
Heavy rain pounded the ship's company as they began to bury the dead at sea during the afternoon watch. The burial teams continued working into the evening and consigned the final seven men to the deep the following day, including Raymond. The services were held at the stern of the ship, with Captain Gatch, his arm still in a sling after being injured in the heat of battle, delivering the eulogy. As Raymond's body, wrapped in a white burial cloth, slid into the ocean, the Chaplain spoke.
O God, we pray Thee that the memory of our comrade, Raymond Miley Krepps, fallen in battle, may be ever sacred in our hearts; that the sacrifice which he has offered for our country's cause may be acceptable in thy sight; and that an entrance into Thine eternal peace may, by Thy pardoning grace, be open unto him.
The Captain dispatched the following personal letter to Raymond's family later that day.
"You no doubt have received official word from the Navy department of the sudden death of your son Lieut. (jg) Raymond Miley Krepps, Jr. U.S.N., who was killed in action at his post of duty during one of our most important naval engagements of the war on Nov. 15. Please accept my sympathy in this sorrow and rest assured that he gave himself unstintingly a hero for his country. He was buried at sea this afternoon. He had achieved an excellent record on board and was highly esteemed by his fellow officers as well as the men under him. His death was instantaneous. He shall be missed by all of us."
And missed he was. By his family. By his wife. By his friends. And now, by all of us.
A few weeks after receiving the notice of his passing, Raymond's parents received his last letter home. "Lots of love to everyone," he signed it. While the echoes of the mighty guns had fallen silent upon the sea, Raymond's love would be felt for decades to come.
Read the next story in the series.
Return to the Lost Takodians of WWII main page.
Author's Note #1: On 24 April 2020, we interviewed a 90 year old man from Connecticut named Bill Parker. He attended Camp Takodah in the early 1940s. During the conversation, we learned that Bill's Father, Arthur, used to work as a Steam Engine Mechanic at Keene Chair Company in Keene, NH. His job was to run a large Fitchburg Steam Engine that helped power the factory. A local boy took an interest in the engine and he would come to the factory to visit Arthur and see the engine at work. When it turned out later that the boy – by then a young man – had died in the war, Arthur was devastated.  That boy was Raymond. "Krepps," said Bill as he told us the story, "is not a name you ever forget."  We imagine that Raymond had a similar, if not unusual, technical interest in the steam engines aboard USS New York and, without a doubt, USS South Dakota. There is a surviving example of a Fitchburg Steam Engine that is still in running condition at the New England Wireless & Steam Museum in East Greenwich, RI. You can see pictures of it by clicking here.
Authors Note #2: Thanks to Battleship Cove in Fall River, MA the Lost Takodians research team was able to have a hands-on opportunity to experience USS Masssachusetts, sister ship to USS South Dakota, on October 3, 2020. Most importantly, we were able to find the equivalent of the Radar Plot, the compartment in which Raymond was killed in action during the early morning hours of November 15, 1942.
You can click here to see a 360 degree view of the Radar Plot. Please note that this section of Massachusetts has been, essentially, abandoned for a long time and is in a state of disrepair. It also had all of its original equipment stripped out of it. Nevertheless, after studying South Dakota's plans and comparing them to Massachusetts, it was immediately apparent we found the correct room. It is much smaller than we had imagined. It still has many things in it that were in line with what we learned about Raymond's final day.
You can also click here to see a 360 degree view of the Flying Bridge.  This "balcony" is located right outside the Radar Plot and, as you can see, is located high above the main deck and waterline on Massachusetts. Seeing as Raymond would have put in countless hours in his equivalent area, we are confident this is a location – and a spectacular view – that he would have enjoyed.
To get a better sense of Raymond's life aboard South Dakota, we assembled the following collection of photos to view and share. You can click here to access the folder. (Or you can click on each subfolder name below.) It is arranged as follows:
SOURCES:
Krepps Family letters, clippings, interviews, and documents
YMCA Camp Takodah History, Oscar & Francis Elwell, 1971. Takodah YMCA Archives.
YMCA Camp Takodah Registration Cards. Takodah YMCA Archives.
Ancestry.com Records, Media, and Krepps Family Trees
Fold 3 Records, Media, and Military Documents for Lt. jg. Raymond Miley Krepps
Keene Evening Sentinel
Historical Society of Cheshire County
United States Naval Academy Special Collections, Alumni Jacket
United States Naval Academy Digital Collections, Lucky Bag, Register
FindAGrave.com
Newspaper Archives
Newspapers.com
Institute Archives & Special Collections, MIT Libraries
USS New York, Wikipedia
USS South Dakota, Wikipedia
Mark VI Guns, Wikipedia
Battle of the Santa Cruz Islands, Wikipedia
Naval Battle of Guadalcanal, Wikipedia
After Action Reports and Summary of Outstanding Events, Fold 3
Cressman, Robert J. (1999). The Official Chronology of the U.S. Navy in World War II, Annapolis, MD/Washington, DC: Naval Institute Press/Naval Historical Center.
Evans, Mark (2013, Jan 10). South Dakota II (BB-57), 1941-1942. Dictionary of American Naval Fighting Ships, Naval History & Heritage Command.
Naval History & Heritage Command (2018, Aug 29). The Solomons Campaign: Guadalcanal, August 1942–February 1943.
USS South Dakota BB57, Gunfire Damage, Battle of Guadalcanal, 14-15 November, 1942, War Damage Report No. 57, Navy Department
United States Navy Procedures: Burial At Sea by Administrative Decision
Individual Deceased Personnel File, Raymond Miley Krepps, National Personnel Records Center, National Archives, St. Louis, MO
Official Military Personnel File, Raymond Miley Krepps, National Personnel Records Center, National Archives, St. Louis, MO
PHOTO CREDITS:
YMCA Camp Takodah Photo Archives
Krepps & Campbell Family Photos
Naval History and Heritage Command
Wheeler Family Photos
United States Naval Academy
USS New York, Wikimedia
USS South Dakota, Wikimedia
USS South Dakota, World War II Database
USS South Dakota, WorldWarPhotos.Info
Uboat.net
National WWII Musuem
Newell Family Photos
Battleship Photo Index & Archives, Navsouce
US Naval Institute Blog
Pieter Bakels Painting
USS South Dakota BB57, Gunfire Damage, Battle of Guadalcanal, 14-15 November, 1942, War Damage Report No. 57, Navy Department
Graeme & Connor Noseworthy
Battleship Cove, Fall River, MA