(This article "From Western Wilderness to the Woods of New Hampshire: Elgin Jones and the roots of Camp Takodah" was prepared for the Winter Edition of the Marlow Historical Society newsletter. It is reprinted here with permission.)
When a small summer camp opened in 1916 on Tolman Pond in Nelson, NH, it did so with a name and a motto that would go on resonate across the region and around the world for over a century to come. In fact, Camp Takodah was created from the start to be "friendly to all."
The man that provided this foundation from which the camp would grow was a Marlow native named Elgin Alonzo Jones.
Many years earlier, Elgin, a vibrant young headstrong student at Dartmouth College, took a trip out west in the mid-1870s to visit the Sioux Indian Reservation in North Dakota. While he was there, he was deeply impressed by the native people and their inviting and almost magnetic culture. As his connection to the tribe became stronger and stronger, a plan started to form within Elgin's imagination to carry the lessons he had learned forward and bring them home to Southern New Hampshire.
Upon graduation, Elgin established himself as a civil engineer, historian, and even the proprietor of an inn. As he became known in the area, the strings of local responsibility began to be pulled. In 1914, Elgin learned about a new YMCA that had been formed in Cheshire County. The organization's focus was initially established to provide young boys, who had "nothing better to do," with some structured programs such as baseball clubs and bible classes. They also set up a basic encampment on Swanzey Lake that summer so the boys could further the development of their "spirit, mind, and body" in a rustic setting of nothing but woods, water and the wild blue yonder. That spring, the Y's first secretary, another dashing young graduate from Dartmouth College named Howard T. Ball, lead fourteen boys and their leaders in what would come to be called "Camp Primitive." They had very few creature comforts, limited equipment, bags of straw for beds, and canvas tents for cover. It was incredibly exciting for the boys who thought of themselves as pioneer explorers of the great outdoors!
The following March, Elgin would be asked to join the Cheshire County YMCA Board of Directors, a position he would serve in for over ten years. As he attended meetings, the plan and thoughts he had formulated decades prior while immersing himself in native cultures began to come into focus. When Howard abruptly resigned after camp in late July, 1915, everything seemed to stop even though the Y had, essentially, just started to develop. There were no more clubs. No classes. No trips. No idea of how or where they would have an encampment the following summer. Nothing.
Elgin, ever present and always thinking, knew it was time to act.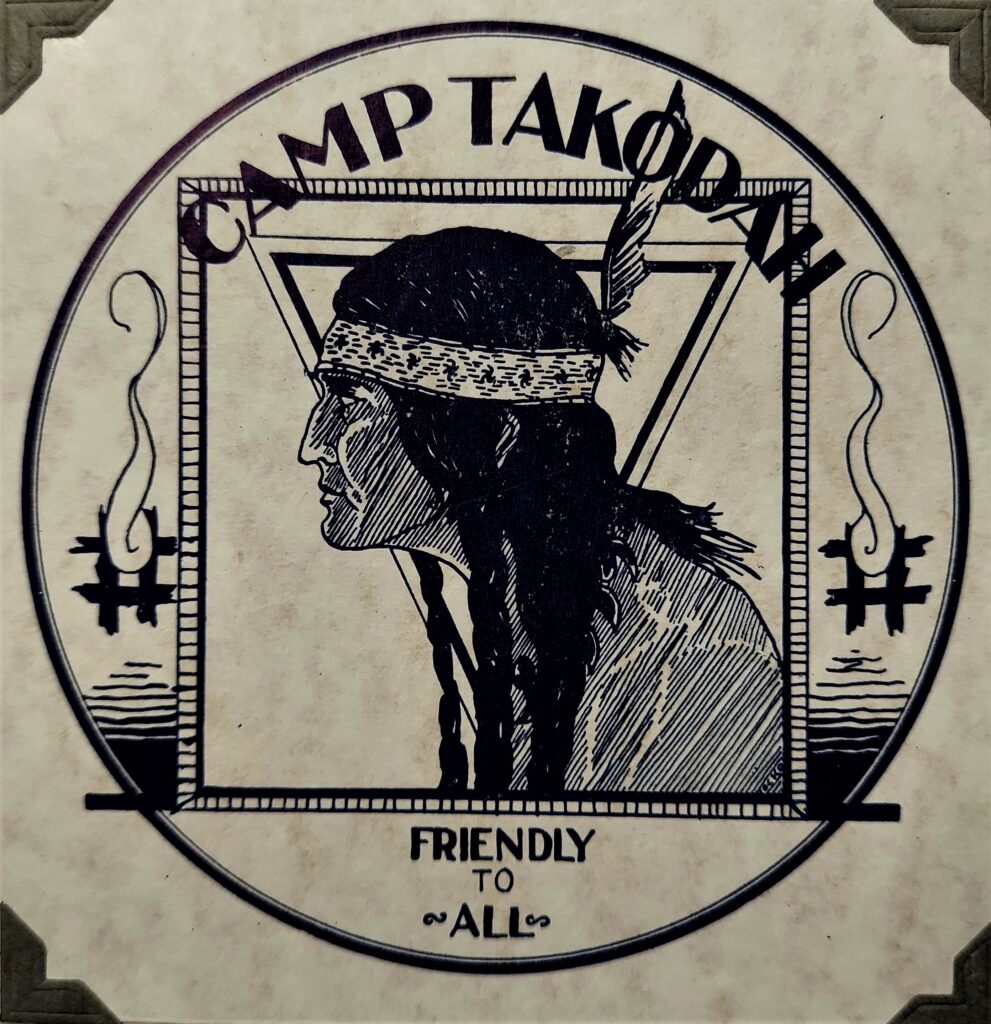 In early 1916, he created a comprehensive plan for a camping services program to be implemented by the Y. Remembering what he had learned out west, Elgin modified and rearranged the letters of "Dakota" and named the camp "Takodah." He also borrowed a Sioux Chief's profile image to use in its logo and declared that the three-word motto – and the fundamental policy that would echo across generations of Takodians – would be "friendly to all."
His plan was presented to the Cheshire County YMCA Board, voted on, and adopted on March 16th. In that moment, Camp Takodah was born and, eventually, Elgin would be known among the program staff and campers as "Takodah Dad."
With Howard gone, however, the Y had to find a new site to develop Elgin's program.
Elgin and Robert C. Woodward, a Y board member from Dublin, NH, got to work and quickly found a new location for two weeks of camping on Tolman Pond in Nelson, NH. Elgin personally negotiated the lease of the land and provided the first Flag of the United States that Takodah would have among its official possessions. The program stipulated that boys could attend for one or two weeks and they were responsible for bringing their own equipment including knives, forks, spoons, plates, and cups. Each tent group was supplied with a dishpan for washing and another one for rinsing, along with towels for drying the dishes. All of the work was done by campers, as part of their "instruction."
The fee for boys to attend was a whopping $1 per day!
It had all gone quite well. But after having spent a few summers on Tolman Pond, Elgin, along with the Board of Directors and Daniel E. Lorentz, the second Secretary of Cheshire County YMCA, knew it was finally time to grow beyond the limitations they faced out in the relatively small plot of land in Nelson. Daniel had successfully demonstrated that he could generate sufficient interest in a County-wide Camp and the path to expansion was clear. And so, during the autumn of 1918, the search for a new site was on. A property committee was formed with several of the Directors, including Elgin. Their singular task was to locate a suitable location that was "bigger and better" and would allow Takodah to develop its program, establish new traditions, and grow for decades to come.
That winter, they discovered a plot of sixty acres in Richmond, NH owned by a Keene veterinarian named Dr. B. C. Russell. The plot consisted of thirty acres of wooded land with "a marvelous hemlock grove on a hill" overlooking an additional thirty acres of pristine water that connects to Tully Brook and Royalston Falls. It had one permanent building, with no power or plumbing, and one small open space for sports and play. Other than that, there was nothing more than a short, unremarkable dirt road in the woods in a little town rarely visited by those who lived in and around Keene. In fact, just a few months prior, Dr. Russell had tried to sell the property to a private school for boys based in St. Louis but those plans never materialized. They simply didn't think they could do much with the land and they were concerned that the cost of development would be too high.
And so, Dr. Russell's lack of luck quickly became the Y's very good fortune. Elgin, a man of vision and promise, could see past the site's humble status towards a place of potential growth and permanence for the program he had created from scratch.
On March 16, 1919, Elgin and his fellow board members cast a vote to lease 60 acres starting that summer with an option to buy the plot the following year. The vote was unanimous. The die was cast. The roots were finally laid. Elgin's vision that had been formed out west in the native wilderness was quickly becoming a reality at home in the Richmond woods.
After the first successful camping season at the new site, it was clear to Elgin that Takodah was there to stay. On August 10, 1919, he recommended to the Board that the Y take "full responsibility for the ownership and operation of camping programs and raise the funds necessary to purchase the property."
That is precisely what occurred.
Elgin surveyed the site (some of his original maps and markers are still in use today) and helped oversee the formal closing of the purchase in January 1920. Always thinking and creating solutions to any challenge laid before him, he also struck an agreement with Keene Gas & Electric to harvest dead chestnut trees off the property so they could be used as telephone poles to help pay off the mortgage. The surplus was earmarked for future development on the site and Elgin would eventually use those funds to acquire twelve additional acres to "protect our rights," as he put it.
Since that time, the site has grown to over five hundred acres.
But Elgin's efforts at camp go far beyond the lines of the property. In April 1924 he agreed to secure a new piano for the Mess Hall to encourage and develop the tradition of singing during each mealtime cleanup. That upright would eventually be moved to the "new" Dining Hall, built in 1928, where it would be played for many decades to come. Campers and staff still sing during cleanup after each meal.
He also helped to build cabins and other buildings, some of which are still in use today. He improved our facilities, raised substantial amounts of money, performed various engineering and environmental studies, and sprinkled his ideas and personality into the traditions that Takodians would all come to know and love.
In 1925, Elgin wrote a song for Camp that was sung after meals and during Chapel services for over 50 years. In fact, the song is still performed by some of Takodah's more seasoned alum and a plan is in the works to bring it back to being sung regularly at camp as early as the summer of 2021.
Zoe Moe Sas Agapo
(By my soul, I love you)
From the friendships that we make
In our camp on Takodah Lake,
From the aid our friends provide;
Thrives Takodah, our great pride.
Zoe moe sas agapo.
Hence this song that all may know ,
Zoe moe sas agapo.
Camp Takodah, when away
You will come in thought and stay,
Bringing memories of the past,
Such as shall forever last;
Will we e'er forget thee? No!
Zoe moe sas agapo,
Will we e'er forget thee? No!
Zoe moe sas agapo.
When Elgin passed away on March 14, 1939, word spread quickly throughout the Cheshire Y's community, even though they were still in the midst of rebuilding after the Great New England Hurricane which had devastated the region just six months prior. A moment of silence was observed by the Board at their next meeting, official notations were added into the records, and Takodians attended his memorial service and burial in Marlow, NH. In some little but meaningful ways, Camp was never quite the same again. His legacy lives on, of course, in the name which "marks evermore the place we take for our home."
Will we e'er forget thee, Elgin? No!
Click here to read more articles about the history of Camp Takodah.