Blog
You might imagine camp is done for the season when session four ends. However, Camp Takodah has many things that go on in the off-season! Each fall we host Family Camp and Women's Weekend as well as welcomed several weddings and other events to Takodah.
We started off the fall season with our first-ever Labor Day Weekend Family Camp, which was an absolute blast! Many families joined us for the weekend, which included all sorts of activities, and was the first program to get to use our brand new tie-dye beach (check out the Instagram to see it!). We ended with one of the best candlelights I've ever seen!
A few weekends later, we had our Women's Weekend. We started off by introducing opening campfire this year. We then had some awesome classes run by our staff, the Keene YMCA staff, and volunteers! The final night ended with a casino night with a murder mystery! 
Besides our seasonal programs, we've had a couple of weddings at camp. Congratulations to the Duffs and the Vianis! Some corporate retreats and a few local schools joined us at camp. We are continuing to work with Nelson School for the rest of the year, which we are really looking forward to. 
The leaves are finally starting to change, and camp looks amazing! Here are some photos of what it looks like at Camp Takodah currently.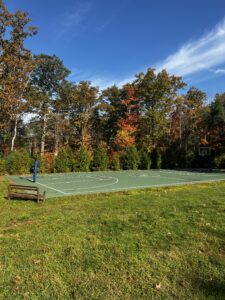 .