The Drumbeat of Love and Loss
1934 was a difficult year for the Toomey family.
In February, Alice Toomey's husband, George Brendon Toomey, a steamfitter turned commercial HVAC salesman, had suddenly died of pneumonia. George was a Canadian immigrant from Prince Edward Island. He had come to the United States on a green card around 1920 to learn the trade of factory piping and plumbing from his brother William who lived in Keene, New Hampshire.
While he worked in New England, George met and fell in love with Alice Helena Pope from Springfield, Vermont. Alice was baptized in the Catholic Church in 1921 and then they were happily married on April 20, 1923. They settled down in Keene and had three beautiful children. George was born in 1925, Winifred was born in 1927, and Bernard was born in 1930. Their father was adored by the family and when he died, mourners and relatives came from near and far to pay their respects.
Alice also had two older daughters, Gladys and Marguerite, from a previous marriage to Harvey Clark that had ended in divorce.
The situation she now faced was complicated and challenging, to say the least.
Not only was Alice widowed, she was unemployed and left to care for five children with little more to her name than the modest payout from her husband's life insurance policy and the family home at 60 Adams Street in Keene. As the months rolled by and Alice steeled herself once again for the harsh reality of single parenthood, she began renting out rooms to make ends meet.
But, Alice was a woman of courage and clarity. She maintained her composure and ensured that she cared for her children above all else. It was an example of strength she would set that would ripple through her family for generations to come.
One winter evening in early 1935, Alice attended a ladies group at the local Masonic Hall. She started speaking with a woman whose husband was a member of the lodge. Alice told the woman about her recent loss and how she was coping by taking it one week, one day, one prayer at a time. She confided in the woman that her older daughters, having already been through the transition of a divorce, seemed to be adjusting as best as could be expected. Her youngest children, Winnie and Bernie, were almost too young to process what had happened. But Alice was worried about her middle child, George Frederick.
Georgie, as he was called, would soon be 10 years old and he was struggling to cope with the loss of his loving and attentive Dad. He was a wonderful little boy with a humble demeanor, bright eyes, wide ears, and tremendous potential.
The woman Alice was getting to know would end up encouraging her to send Georgie to a two-week session at a local YMCA summer camp the following July. In that environment, he could shift his mind away from grief and loss and just focus on having fun and making new friends. She told Alice about the green fields and new cabins. She spoke of the clean, secluded lake and the canoes and sailboats they use upon it. She described the songs they sing, the meals they eat, the adventures they take, and the beautiful sunsets that mark ever the place she takes for her home. She recommended that a place like that was just what Georgie needed.
The woman's name was Frances Elwell.
Her husband, Oscar Elwell, whom it seemed everyone in town was familiar with, was the Director for the two local YMCAs in Cheshire County. Frances helped him to run, and rapidly grow, their popular, rustic, residential camp located about 30 minutes south of Keene in Richmond, New Hampshire.
And so, in July of 1935, George Frederick Toomey came to Camp Takodah.
When Georgie arrived that July, he wasn't the only new person to grace the shores of Cass Pond. Margaret Hansson Mitchell, whose family is related to the Toomeys and had a long history of employment and involvement at Camp, started as the office secretary working in the same building that our staff currently uses. Elsie Crowninshield took over as camp cook. Rosamond Hart of Marlboro, a proud recipient of a CT 8 and a graduate of Peter Bent Brigham Hospital in Boston, served as our new camp nurse and Alma "Peter" Bent, coincidentally, joined the staff as Camp Bugler.
Georgie found himself immersed in a supportive and encouraging culture rooted in YMCA values, strong patriotism, and Takodah traditions designed to bring out the best in each unique child.
By the time 1936 rolled around, Georgie couldn't wait to get back to Camp. He had grown so much from his first year, as Alice had noticed, that sending him back was an easy decision. That summer, Georgie was given a Camp Takodah Identification Card which he would later show off to his friends and family around town. He learned how to take pictures and make photo sleeves and frames using tape and construction paper in Hobby Nook. He noticed that some of the buildings had been moved since the previous summer and it almost felt like camp – always in a state of perpetual change and improvement – was alive.
Even though it was only 20 years old, Takodah was a place of magic and mystery.
Later that winter, Georgie attended a Camp Reunion held in Friendship Lodge. This is where the magic really came to life with "Mr. & Mrs. Claus" making an appearance, a crackling fire in the stone fireplace, tasty treats emerging from the kitchen, and songs being sung that took the chill out of the air and brought them right back to feeling the charm and thrill of summer.
Of course, as Oscar would say, it was a "great motivator for the coming season."
It worked. Georgie came back to camp again in 1937 for his last session at Takodah. He earned a CT3, a felt patch he would wear with pride around the property which was continuing to transform in both subtle and obvious ways. The Infirmary, later known as The Hemlocks, had received a donation from Mrs. Kate K. Davis to build a beautiful new stone double-sided fireplace complete with hand-forged cast iron vents. The Girls Staff had purchased a set of chimes that were used in Chapel, Candlelight, and other ceremonies. The electric plant chugged and hummed along providing power and extending the possibilities for what Camp had to offer long after the sun had gone down.
There's no doubt that those three sessions at Camp went a long way to helping George heal and deal with his grief. He had lost a Father but gained a family.
In the years after, George continued to work his way through the Keene Public Schools culminating with his time at Keene High where he went by the nickname "Tessy." He played intra-mural hockey, was a member of the Physics Club – a nod to his excellence in academics – and he was an active rider in the Bicycle Club. He also worked weekends as a stock boy for the First National Store managed by K. M. Holden.
"For he's a jolly good fellow," his classmates said of George in the Keene High Salamagundi in 1943. His ambition was simple: "to get a good job."
After he graduated, George worked throughout the summer of 1943 for Markem Machine Company of Keene. The company was founded in 1911 by F. A. Putnam to develop inks that would adhere effectively to shoe leather. Markem would later expand to include industrial marking machines used in various manufacturing operations, the garment industry, and industrial printing.
It was a good job for George. While he found that it challenged him to work hard, he didn't find it personally rewarding nor did he feel like he was doing his part to support the ongoing war effort. As George thought about the patriotism he learned at camp, the history he learned at school, the example of resilience set by his mother, and the personal sacrifices being made by men, women, and their families across the nation and around the world, he found that there was really only one job to do.
It was a good job. It was an important job. It was a job that would fulfil his desire to rise up and make a difference for his country. It was a job being performed by heroic men in places like the North Atlantic, on the ground in Italy and Burma, in the air over Germany and all over, on and below the vast Pacific.
On 8 November 1943, George Frederick Toomey enlisted in the United States Naval Reserve as an Apprentice Seaman at Manchester, New Hampshire. On the 15th, he was recalled to active duty and transferred to the Naval Training Station, Company 824, at Newport, Rhode Island where he began his basic training under the command of Chief Petty Officer W. B. Hathaway. There he took a swimming test and underwent aptitude training and learning the basics of being a Navy 'bluejacket.'
George was promoted to Seaman second class on 24 December upon completion of 'boot camp' and returned to Keene on Christmas day to visit his family. They enjoyed seeing him strut around the house in his uniform, hear him "talk the Navy talk" to his sisters and brother, and regale them with stories about cruisers and carriers, destroyers and battleships, submarines and cargo ships. He made a point of bringing cheer into the home, helping his mother cook and serve meals, and ensure Bernie, his bright eyed little brother, was working hard in school.
Given the situation at home, with money tight and his mother the sole breadwinner, George had previously requested Family Allowance benefits (which was approved in early January) to be paid directly to Alice. This was a huge help, as she was dependent on George's income to take care of the family.
George did everything he could to help his mother keep the family afloat.
His liberty was limited so he returned to Newport before the end of the month and was transferred to Radioman School at the Naval Training School in Charleston, South Carolina, on 4 January 1944.
Within days of his arrival in Charleston, George received some terrible news from home. His sister, Winnie, a vibrant senior full of promise at Keene High, had died after a brief battle with spinal meningitis. The grief, pain, and anguish he had felt upon the death of his Father came flooding back to the surface. He was granted bereavement leave and travelled home for the funeral.
It was one of the most difficult trips George ever had to take.
Even so, Winnie's service proved to be a powerful and emotional experience with the Senior Choir of St. Bernard's Church performing "Lead, Kindly Light" and "Nearer, My God to Thee." Her fellow senior class members were all present as well as the faculty members and staff of Keene High. The Board of Education attended led by Headmaster Raymond E. Claflin and John Zimmerman, President of the Senior Class. The students acted as pall bearers and there were floral tributes from the Class of 1944, Winnie's home room, the faculty, National Grange Insurance, the Girl Reserves, and St. Bernard's, along with the Toomey's friends, family, and neighbors.
Winnifred, as was shown that day, was as widely loved and adored as her Father had been just 10 years prior.
George grieved the loss of his dear sister and carefully watched as his mother's fortitude and ability to keep the family together through times like this was put to the test once again. Alice held them tight, reassured them that they would be alright, and showed them a lasting love that got them all through those dark days.
Alice was more than a mother. She was a savior to them all. She was the rock from which all things in the Toomey family would remain stable, grounded, and close.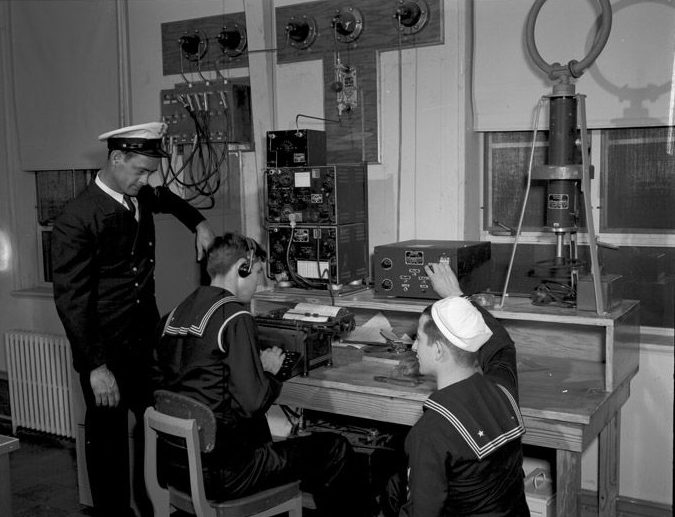 George returned to Radioman School on 13 January 1944 where he began to learn the difficult art of communication via high frequency radio waves. Such communications were critically important to waging modern naval warfare, as ships and aircraft needed to exchange information at a distance. This would include such things as enemy contact messages, passing orders or direction and plans for future operations. It also included less official things, like picking up music broadcast stations or, for a laugh, listening to enemy propaganda stations like Axis Sally and Tokyo Rose (which also played excellent musical tunes).
Operating these radio systems was not easy, especially as atmospheric conditions, weather and signal fluctuations could all make sending and receiving messages difficult. To make matters worse, messages were almost always encrypted (to prevent the enemy from knowing your plans) which added another layer of complexity. While at Radioman school, George was joined by Roger Plante, a close friend from Manchester, who also joined the Navy and became a radioman.
After successfully completing radioman school, George was transferred to Receiving Station, Norfolk, Virginia, to await assignment. On 30 May, he was promoted to Seaman First Class and soon after received orders to report to warship USS Underhill (DE-682) in Boston, Massachusetts.
Underhill was a destroyer-escort, one of the many emergency-built warships hurriedly constructed at the height of the U-boat campaign in the Atlantic. In 1941-42, cargo ships were being sunk so fast by German submarines that the Allies feared supply lines would be cut between North America and Britain. Even before the U.S. had entered the war, a massive infrastructure investment built literally dozens of new shipyards (mainly in the south and on the west coast) that could quickly replace the hundreds of sunk cargo ships and rapidly build new patrol ships to defend against German U-boats.
The destroyer-escort design was relatively simple. While a third smaller and slower than destroyers intended for fleet combat, the warship was still large enough to cruise across the Atlantic unaided and was armed with weapons intended mainly to sink submarines. For this task they were equipped with two depth charge tracks, eight depth charge throwers and even a depth bomb projector (called a 'hedgehog') that could drop a large pattern of projectiles over a suspected target. The ship also had a sonar dome installed in the bow, which could broadcast powerful sound waves ahead and below the ship. Specialized equipment could detect if the sound waves bounced off a submerged object, like a submarine, which could then be attacked.
When George reported aboard on 8 June, Underhill had just been moved to the Boston Navy Yard after being launched from the Bethlehem Steel Company's Fore River Shipyard in Quincy, Massachusetts. She began receiving repairs and alterations, including the installation of six anti-aircraft guns (to protect against enemy air attacks).
While in Boston, George met a girl named Claire. They quickly became close and had limited time together. While they were never married, it was clear they were in love.
On 19 June, Underhill put to sea and George got his first taste of Navy life at sea, learning the rhythm of duty watches, battle drills and how to eat, sleep and work in the floating warship that was now his home. After two weeks training in the cool waters in Casco Bay, Maine, the destroyer-escort joined UGS-47, a large, slow convoy of cargo ships headed for the Mediterranean. The passage across the Atlantic was uneventful, but no doubt George was very excited to glimpse Gibraltar and the mysterious North African coast while thoroughly testing his skills at the radio.
Unluckily, as the warship entered Bizerte harbor in Tunisia she struck a submerged wreck, damaging a propeller. After arriving at Oran on 27 July, the crew of Floating Dry Dock #3 installed a new port propeller and, after some joking about 'watching where they steamed,' Underhill departed North Africa. Early on 6 August she joined the escort of convoy GUS 47, with which she arrived safely at Boston on 19 August.
Underhill remained in the Boston Navy Yard for the next three weeks as workers replaced the temporary propeller and tried to solve an excessive vibration problem discovered during post-repair dock trials. George, of course, was fine with this as it gave him more time to spend with Claire whenever he could get some shore leave.
With the vibration fixed, but now behind schedule, the warship put to sea on 12 September for the run to join a convoy that had departed Hampton Roads, Virginia, the day before. Ominously, Navy meteorologists (also known as 'weather-guessers') broadcast a hurricane warning that evening and Underhill spent the next two days in heavy swells and rain. She joined the convoy shortly thereafter and went through another storm in the mid-Atlantic.
During that crossing, on 20 September, the crew felt "a noticeable jar throughout the ship" and the sonar gear immediately stopped working. They later discovered that the entire sonar dome had been broken off the ship, likely from bumping over a whale. With no sonar to detect possible enemy submarines, she was assigned "a position aft of the convoy riding herd on stragglers."
After arriving in Plymouth, England, on 29 September divers inspected the damage and on 2 October the destroyer-escort put into drydock #2 for a new sound head. Surprisingly this process only took two days, though there's no doubt at least some of the sailors got to try English beer in the many pubs around that old Royal Navy port.
Underhill put to sea the morning of 5 October and, while awaiting a convoy, made sound contact on a possible submarine just before noon. In company with Major (DE-796) and Weeden (DE-797), she dropped a full pattern of depth charges that produced no results. Shortly thereafter, while conducting a careful sonar search for the enemy submarine, an entire flotilla of a dozen friendly landing approached from the east. As put by Underhill's war diary, despite flying the submarine black pennant and requesting the boats alter course, "the entire flotilla ran through the contact area completely fouling all sound contacts with wakes."
Somewhat irritated, the crew abandoned the search and joined their convoy of 39 landing craft heading back across the Atlantic. The voyage was slow, and likely miserable for the landing craft crews, and then ended in tragedy. On 21 October, while in heavy seas, Steward's Mate 1st class H. Williams fell overboard on the starboard side. The ship immediately began to turn, life rings were thrown and the boat crew prepared to lower away. Suddenly a breaking crest passed over the man in the water and he disappeared, never again rising to the surface. Underhill's crew continued looking for another two hours but no trace was ever found. The destroyer-escort steamed north that night, and it was a subdued crew that welcomed the sight of Boston on 25 October.
After only a short stay in Boston, Underhill put to sea on 8 November, this time to escort convoy UGS 60 from Norfolk to North Africa, arriving in Algiers without incident on the 27th. In an interesting diversion, the warship then sailed to Oran where, in company with Gillette (DE-681) and Kenyon (DE-683), she conducted anti-submarine warfare exercises with French submarine Doris. While there George discovered he'd just been promoted to Radioman third class, which included increased pay that would help out his family. Underhill departed Oran on 3 December and escorted GUS 60 across the Atlantic to New York, arriving there on the 21st.
The next day the ship moored at Pier #3 at the New York Navy Yard for repairs and alterations, and some men received holiday leave, including George. In early January, the warship was temporarily assigned to Submarine Forces, Atlantic. Operating out of New London, Connecticut, she served as a training and escort ship for submarines; took part in exercises near Block Island Sound and in Long Island Sound; and trained intensively in antisubmarine warfare tactics, techniques and procedures.
During this period, George, who was clearly concerned with how his family was getting along since losing Winnie, posted several letters home inquiring on how they were all doing. He would later remark that he struggled with what to say but even so you could tell he wrote from the heart. He loved and missed them all very much and it came through in each special sentiment he sent.
13 January 1945, USS Underhill, New London, CT:
Dear Mom and Bern,
Boy it sure felt good to talk to you and Bern again and to find out that everything was going along o.k. with you both.
You know, when we left New York, we were supposed to go to England. We got a little ways out in the harbor and something went wrong with one of the screws so we had to go back in and get it fixed. As it started out, we were supposed to go to England with another ship and the third ship was to go New London to work with submarines for a while. So when we couldn't go to England the other ship went in our place and so we come up next in their place.
It was a pretty lucky break, I guess.
The other day when we got our early liberty, I tried getting home to see you but found out that the train wouldn't get me back in time so I couldn't come. However, I did have enough time to see Claire. That was something I was glad to do as you can probably know. She is feeling fine and speaks of you and Bernard a lot. She likes you both a whole lot and I am glad. There is no reason in the world why she shouldn't like both through because you're the best there is in the world and I love you both very dearly.
I don't know how long we will be here in New London or where we will go or when we will leave here. There is nothing to worry about so don't worry about me.
Right now I am sitting up in the Radio Shack listening to the Hit Parade on the radio and writing letters. Most of the other guys are in their sacks or out on liberty so I am up here all by myself. It is 9:30 and I guess I will hit the sack pretty soon too.
I got a letter from Marg the other day. I guess she was a bit surprised when I brought a girl home with me. She said she didn't realize I was old enough to bring a girl home. She said I should shop around some more. I guess she doesn't think I have. Don't you dare say anything to her about it though. You and I have our own secrets, haven't we Mom? I guess Marg doesn't realize that I have grown up a little. I guess she felt it a little with my not spending so much time with her this time as I did in times past. Of course, the time of year had a lot to do with it too as you know. However, you are the one I want to see the most when I am home. So long as I am with you and Bern, I am satisfied.
Well Mom I guess I had better close now and say good-night. It is about that time I went to bed. I will let you know if anything new comes up with me so don't worry about me.
So good-night and God bless you and take care of you and help you.
Your loving son,                                              My Regards To Everyone
George
XXXXXXXXXXXXX
During this training period at New London the lookouts were trained extensively in how to spot and recognize periscopes, submarine conning towers and torpedo wakes. Clearly, given the winding down of the war in Europe, this could only mean one thing.
They were headed for the Pacific.
On 8 February, Underhill put to sea again to escort HMS Patroller, a British light aircraft carrier, to the Panama Canal. Although he didn't know it, this would be the last time George would see New England.
The voyage south was rough, with heavy seas and freezing rain making deck operations hazardous. Radio communications were also difficult, and George worked hard to stay in contact with the British carrier, but the storms lessened as the ships sailed south and the weather was clear and warm when they put in to San Cristobal, Panama, on 13 February.
Underhill then steamed, via the Galapagos Islands and Bora Bora, Society Islands, to Manus Island in the south Pacific, mooring at Seeadler Harbor on 15 March.
At some point during the voyage south, likely after arriving at Manus Island, George posted two letters home.
3 March 1944, USS Underhill:
"How are you both today? I hope you're both feeling fine and getting along o.k. Be sure and let me know.
We were initiated into King Neptune's Domain the other day. I wrote and told Claire about it and told her to tell you. I am feeling well outside of a great dislike for the darned hot weather.  I can see I will until I can get used to it. That is if I can get used to it.
How are you getting along at home, mother? Is everything o.k.? How is Bern doing in school? I hope he is trying hard. Tell him that I hope he is for his own good."
10 March 1944, USS Underhill:
"How are you both feeling today? I hope you are both fine and getting along alright. How is Bern doing in school? Is he making out o.k.? I hope he is because he means a lot to me and I want him to do his best in school."
He went on to ask about his friends and inquired about his sister.
"I suppose that Glad had another boy or girl by now, hasn't she? I wish I could see her.  Did you send her the (baby) bottle that I sent home for her? I hope it didn't break."
He closed the letter by telling Alice not to stop writing even if she didn't hear from him as he wasn't able to send mail very quickly and he wasn't sure where he would be. No matter what, he was surely thinking of them and sending his love.
At this point in the Pacific war, U.S. and Allied forces were still fighting in the Philippines and were preparing for major operations in the Marianas Islands to liberate Guam and Saipan from Japanese occupation. Given the size of the American effort in the Philippines, there were almost ten divisions fighting on Luzon alone, Underhill joined the hundreds of other ships escorting equipment, ammunition, troops and supplies from staging ports in the south Pacific to Philippine ports.
On 4 July 1945, George posted another letter home, this time from "somewhere in the Philippines."
Dear Mom and Bern,
Just a few lines while I have the time to let you know that I am fine and getting along o.k. I hope everything is the same with you both at home. Today I received some more mail from you and a couple of others from Marg and Glad. I see by their letters that everything is the same with them.
By the way, you were saying something about having a vacation some-time. Just when do you get it? It will do you good to have a little time to yourself and don't go working just as hard just because you will be at home for a while. Take it easy. It will do you good. I am enclosing a money order which I want you to cash and use whatever of it you want to and then put the rest of it in my bank account.
Well, Mom, outside of standing watch and seeing a few movies at night thing around here are just about the same as ever. You say you haven't heard from Claire and well neither have I. I will let you know what is what as soon as she answers my last letter.
Don't worry about me. I am alright and God bless you both. Tell Bern I said he did darn good in school and to keep it up.
Your loving son,
George
Alice received that letter from George on 18 July. It was the last time she ever heard from him.
Soon after George sent that letter, Underhill sailed north to Okinawa, in the Ryukyu Islands, where she spent eight days conducting antisubmarine patrols off the island awaiting a convoy. On 22 July the destroyer-escort departed the Ryukyu Islands in company with eight smaller patrol craft and a convoy of seven tank landing ships (LST's) and stores ship Adria (AF-30) carrying soldiers of the 96th Division to the Philippines for rest and recuperation.
The commander of one of the escorts, PC-1251, immediately noticed that Underhill was very sharp. As he put it later in an article:
The Underhill, our immediate superior, was a well-run and, in Navy parlance, a happy ship. A few days before, we had gone alongside to deliver some charts to her and had noticed not only that she was cleanly and efficiently handled but also that there was a good deal of lighthearted clowning among the nonworking members of the crew, and that there was none of the sullen weariness that distinguishes a badly run ship. She had just come from the Atlantic, where she had been working in much faster company than that in which she now found herself, and it was clear that the morale on board was high because the men were good, and knew they were good. Strangely enough, you can tell a thing like that without ever setting foot on a ship or talking to any of the men. It stands out, as though spelled in lights, and on the Underhill it stood out as clearly as on any ship I've ever seen.
Given the slow speed of the LST's, progress was limited and Underhill's radar air search team nervously kept an eye to the north and west. At this point in the war Japanese pilots sometimes flew one-way kamikaze missions from bases in Taiwan and China. On the morning of 24 July, one of the patrol craft – submarine chaser No. 1315 – broke down and was towed back to Okinawa by two other patrol boats. Then, at 0907, Underhill broadcast an aircraft alert, unidentified "bogey" about 10 miles out. The ships took up an air defense screen around the LST's and the gun crews got ready but thankfully the aircraft veered away.
In another sign Underhill was a good ship, Commander Newcomb sent a message to all the small escorts.
"It occurs to me that you people might like some ice cream. I will give you five gallons of ice cream to three ships a day in the following order of rotation," and listed the order in which the ships were to come alongside Underhill.
PC-1251 was second on the list. "That's pretty damned nice," said her skipper, "He didn't have to do a thing like that."
That afternoon, as Underhill patrolled about 4,000 yards ahead of the convoy, her lookout spotted a mine. Given that mines, especially unmoored mines floating loose, were a "hazard to navigation," the warship slowed to try and sink it with gunfire.
A few minutes later, at 1442, Underhill's sonar team picked up a submarine contact. At 1445, Underhill's radioman – which could have been George – asked a nearby patrol chaser (PC-804) to investigate. The convoy, meanwhile, turned to skirt around the area.
Unbeknownst to the American convoy, they had stumbled across Japanese submarine I-53, a long-range submarine modified to carry six kaitens, which were anti-ship torpedoes modified to carry a single pilot who could steer the weapon on a one-way suicide mission into a target. According to Japanese records, two of the kaitens had suffered damage and could not be launched but the submarine skipper ordered the other four released. These were the undersea contacts Underhill's sonar team picked up. The destroyer-escorts gun crews would have also gone to general quarters as sometimes kaitens could be sunk by gunfire if they broached close to the surface.
Things unfolded fast after that.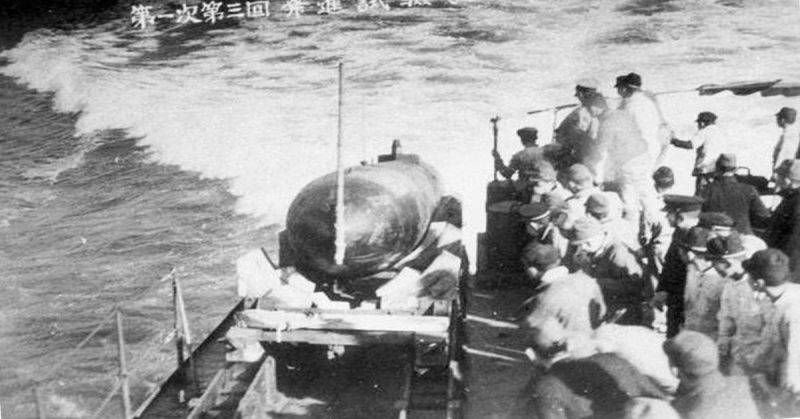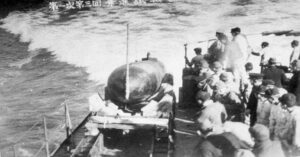 Underhill steamed ahead full, surging in front of the other patrol craft. At 1445, PC-804, which was about 3,000 yards behind the destroyer-escort, sighted a periscope off her starboard bow and opened fire as she passed. At 1450, Underhill also reported attacking sub contact, likely another kaiten, and quickly dropped a full pattern of depth charges, which the other patrol ships saw as dirty geysers of water erupting behind the destroyer escort. At 1455, PC 804 sighted another periscope and shape of a sub near the surface, probably the same kaiten seen a few minutes earlier.
At 1502, Underhill began chasing a third kaiten, broadcasting over the radio "She is going like hell!" At 1504, the destroyer-escort reported torpedoes in the water – possibly fired by I-53 – and, a minute later, she reported she was going to ram one of the kaitens. The other patrol craft saw her race ahead, with her guns firing low into the water around her.
A final broadcast a moment later, "I wish these little bastards would get out from under us."
At 1515, Underhill's luck finally ran out.
One of the survivor's remembered a bump as the destroyer-escort likely rammed one of the submersibles while watching another kaiten speeding toward the destroyer-escort from the starboard quarter. The kaiten rammed home on the starboard bow just forward of the engine room and the results were catastrophic. In addition to the torpedoes' 3000-pound warhead, the forward steam boilers and ready room ammunition also blew up, tearing the ship completely in two. The forward portion sank almost instantly, with no survivors.
PC-803 reported flame and debris going 1000 feet in the air, the smoke rising to about two miles. The skipper of PC-1251, who had been watching the battle through his binoculars from almost three miles away, saw the smoke turn from "a boil of orange flame and start[ed] to rise straight upward; it bubbled and boiled and churned in a curdling of orange and black until it got up to about ten thousand feet, and then the smoke flattened out and mushroomed dirtily into the base of the white cumulus clouds."
Radioman third class George Frederick Toomey, working bravely at his station in the radio room, was killed almost instantly and went down with the forward half of the Underhill.
Over the next two hours, the patrol craft made multiple contacts with one or two more kaitens, though none made another successful attack. They also searched for survivors. Of the 238 men on board Underhill when she struck the midget submarines, only 125 survived. Among the dead was her commanding officer, Lieutenant Commander Robert Masten Newcomb, who had been with the ship since her commissioning. The still floating stern portion of Underhill was then sunk by gunfire and all ships cleared the area by early evening.
A few hours later, destroyer Walke (DD-416), in company with two other destroyers, steamed into the area to investigate smoke the lookouts had spotted on the horizon. The ships came across a large oil slick and debris in the water, eventually recovering three bodies from the sea. The men were tentatively identified by marks on their clothing as E.H. Higgins, E. Smith and R. E. Burkett before the crew held a formal burial at sea ceremony.
By coincidence, one of the destroyers with Walke was Barton (DD-722), the second ship to receive that name after the first Barton was sunk during the Battle of Guadalcanal in November 1942. The same ship in which another Takodian, Gale Philip Newell, lost his life.
On 14 August 1945, Alice received a letter from the US Navy Department, Bureau of Naval Personnel. It included a booklet titled "Information Concerning Naval Personnel Reported Missing" that she would read but from which she would receive little encouragement.
Dear Mrs. Toomey:
It is with regret that this Bureau confirms the report that your son, George Frederick Toomey, Radioman third class, United States Naval Reserve, is missing. Detailed information in connection with his disappearance has not been received.
Sincere sympathy is extended to you in your anxiety. Should any information be received which can be released, it will be promptly forwarded to you.
You are urged to read the enclosed booklet carefully as it explains matters of importance concerning naval personnel in the missing status.
Sincerely yours,
Lt. J. McNicol, Jr.
Lieutenant, U.S.N.R.
Assistant Officer in Charge
Casualty Services.
Later that day, the Keene Evening Sentinel reported the story. George's picture appeared on the front page next to fellow Camp Takodah alumnus Cpl. F. Allen Stearns, USAAF, under the headline "Keene Men Missing." It was not the last time their names would appear together nor was it the last time George would appear on the cover of the Sentinel alongside a fellow Takodian.
Within a few weeks, the paper would run another story. This time, they confirmed that he had died onboard the Underhill. The story read in part:
Mrs. Toomey received the following telegram: "I deeply regret to inform you that a careful review of all facts available relating to your son, George Frederick Toomey, 3/c, USNR, previously reported as missing, leads to the conclusion that there is no hope for his survival and that he lost his life as a result of enemy action on July 24, 1945, while in service of his country. One of his comrades on the Underhill lives in Manchester and is on his way to the United States for furlough."
The drumbeat of news about George was far from over.
On 12 September 1945, Alice received another letter from the Navy Department Bureau of Naval Personnel. It was accompanied by a brightly colored, hand-sewn 48-star Flag of the United States tightly folded in the shape of a triangle. It was written by Lt. Elwood Melendy Rich, a surviving officer of the USS Underhill. He wrote to offer his sympathy, to let her know they had performed a careful review, and that George was, indeed, killed in action.
Lt. Rich told her the story of the battle in which George died. He reassured her that even though they had "searched the remaining parts of the ship for three hours" he was positive all survivors had been picked up. He continued by stating,
"George's battle station was in the Radio Shack, which was located directly below the bridge. The whole bridge structure was destroyed, and I feel certain that everyone in that part of the ship was killed instantly. I knew George well, having stood watches with him, and I thought he was a fine young man. He was willing to learn and caught on very quickly to any assignment given to him. He did his work well and could always be depended upon to do a good job. Your son was respectful and courteous.
The peace we now have was made possible by men such as George, who gave their all. I know nothing I can say will ease your sorrow; he will long be remembered by those of us who survived. I do hope you may receive some comfort and courage in the knowledge of your son's brave devotion and splendid service."
Alice continued to receive a steady stream of communications regarding her son's death gratuities, life insurance payouts, pay in arrears, pension, service medals, awards and more.
Even in death, George continued to care for his family. His settlements would provide years of financial benefits that allowed his mother to not only recover but give her a chance to channel her grief into action.
Alice Toomey, an unquestionable heroine of this story, played a leading role in the formation of the Keene Chapter of the New Hampshire Gold Star Mothers Society. For years to come, she helped those who were in great need. She gave back to those who have given so much. She comforted the grieving. She looked after those who were in pain.  Alice Toomey, a woman who had lost a husband and two children – two to illness, the other to battle – would transform herself into a pillar of stability for her family, her community, and herself.
Once again, it was an example of strength that would be felt by Alice's family for generations to come.
On June 6, 2019, the 75th anniversary of the Normandy landings, George appeared on the cover of the Keene Sentinel for the second time. In this edition, his picture was placed next to his Takodah brother Pfc. Chester Lyman "Beany" Kingsbury, Jr., who had been killed in combat with the US Army in France in 1944. The article covered the development of the story for all twelve of the Lost Takodians of the Second World War.
And yet, there's one final chapter in this particular story. The folded 48-star flag that Alice was given to mark the loss of her beloved son will finally have a chance to fly.
On Saturday, June 29, 2019, the flag was taken to YMCA Camp Takodah, the place where this story took root. It was first flown at half-staff, for George, by a traditional color guard of uniformed Leaders in Training. After a moment of silence and a salute from the military service members in attendance, it was raised to the top of the flagpole where it flew for the remainder of the day as a tribute to Alice and to the Gold Star Mothers of the United States.
At that moment, the following poem by Caroline Ticknor was read by a member of the Toomey family:
I have a star of gold on my breast,
A star of strife, a star of rest;
It marks a sword-thrust through my heart.
It tells of glory and of pain,
Of bitter loss and wondrous gain,
Of youth that played the hero's part.
O, star of gold upon my breast,
Tell of those stars that he loved best;
He bore the stripes, he suffered all
To keep our banner free from stain;
He hath not given all in vain
In answering his Nation's call.
O, star of hope upon my breast,
Strengthen the faith I have professed;
He died that nations might be free;
Help me to live for truth and right,
And with my woman's soul to fight
Nerved by his immortality.
When the flag was lowered, properly folded, and placed into a protective case to be stored at the Historical Society of Cheshire County, we wished George and Alice the same parting words they had offered each other so many years ago.
"Good-night and God bless."
Read the next story in the series.
Return to the Lost Takodians of WWII main page.
SOURCES:
Toomey & Hansson family letters, clippings, interviews, and documents
YMCA Camp Takodah Thumbnail History, Oscar & Francis Elwell, 1971. Takodah YMCA Archives.
YMCA Camp Takodah Registration Cards. Takodah YMCA Archives.
Keene Evening Sentinel
Historical Society of Cheshire County
Ancestry.com Records, Media, and Toomey Family Trees
Fold 3 Records, Media, and Military Documents
Official Military Personnel Record, Department of the Navy, National Personnel Records Center, National Archives, St. Louis, MO.
Newspaper Archives
Newspapers.com
Wikipedia
USS Underhill, Musters, War Patrol Reports, After Action Reports, and Official History Reports
USSUnderhill.org
Naval History and Heritage Command
Wrecksite
FindAGrave.com
American Battle Monuments Commission
PHOTO CREDITS:
YMCA Camp Takodah Photo Archives
Toomey & Hansson Family Photos
Naval History and Heritage Command
Wikimedia
ww2db.com
ussslater.org
Naval History and Heritage Command
Navsource
National WWII Musuem
US Naval Institute